Best Advice Ever From The Band Director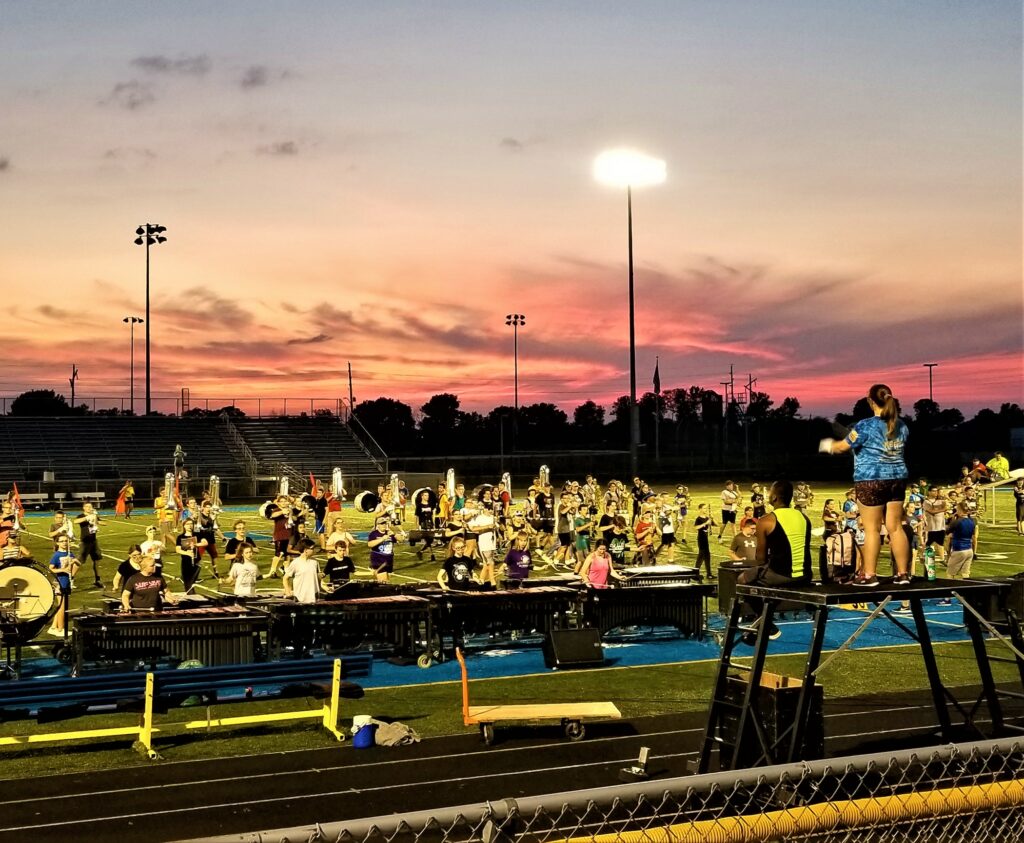 They accused me of being a crazy band mom, so I just may as well own it.
He did give the best advice ever, after all.
I honestly have no idea what a crazy band mom is or what one looks like…
…I think she might yell loudly and pump her fists in the air when she's excited. I've never done that though.
On Thursday evening each week, when we can sit in the stands and watch the marching band do a final run through of what they've been learning, my heart goes flip-flop as all the elements of precision and rhythm and music and personality come together. I'm truly mesmerized by the whole process.
Once upon a time and not so very very long ago (just yesterday, sorta), I was a crazy soccer mom AND I was a crazy football and paintball mom. Layered on top of that I was a crazy vex robotics and comedy sports mom. Now I'm a crazy band and choir mom…so there's that.
But I've never yelled loudly or pumped my fists in the air.

I love that our children grew up with diverse interests, because it pushed me to learn and grow in ways that I would not have otherwise.
That's beside the point.
The stadium lights cast a bright glow across the green turf. The flag was fluttering in the August breeze. The setting sun etched a vibrant magenta and indigo across the western sky. The band students who had worked hard all week learning parts and positions stood at attention as Mr. Wing, the band director gave final instructions for the evening's practice.
There they stood. All 160 students stood at attention, facing him.
This is the best advice ever from the band director.
This is what he said,
"Ok! Here we go! Set for the final run through. And I want each and everyone of you to think of three things you can do better. You choose your three. It will be something different for each of you. But 160 times 3 all doing better, it's going to be great!"
And I wanted to jump up off those stands and pump my fists in the air and yell YEEEESSSS to the top of my lungs…
…only I'm not that crazy!!! Srsly…not that crazy.
But y'all think about it. If he'd have told them to really pay attention to their rhythm on pages 11 – 18, they would have thought, "well I already am", and pitched his words right out the window, if there had been a window on the field…but when he told them to think of three things they each could improve individually, I guarantee you that every single student could think of three things to do better.
That was a great "take away" from watching the final run through.
So I ask you what are three things that YOU can improve, just with life in general? If 8 billion people on this earth would choose to improve only three things and do those better, what an amazing world this would be!!
That's the best advice ever from the band director.
"Set for final run through!"
I'll go first!
~~~~~~~~~~~~~~~~~~~~~~~~~~~~~~~~~~~~~~~~~~~~~~~~~~~~~~~~~~~~~~~
P.S. If you believe in the power of music for all and would like to donate to a great cause, you can click this link. A donation here would specifically benefit Greenfield Central Cougar Pride Marching Band's general fund. The students and parents are working together to keep band fees low, so that no student who wishes to participate in marching band is left behind. Again, thank you for your visit to this space, and if you choose to donate, I will virtually hug your neck…and I might get crazy enough to yell and pump my fists in the air!