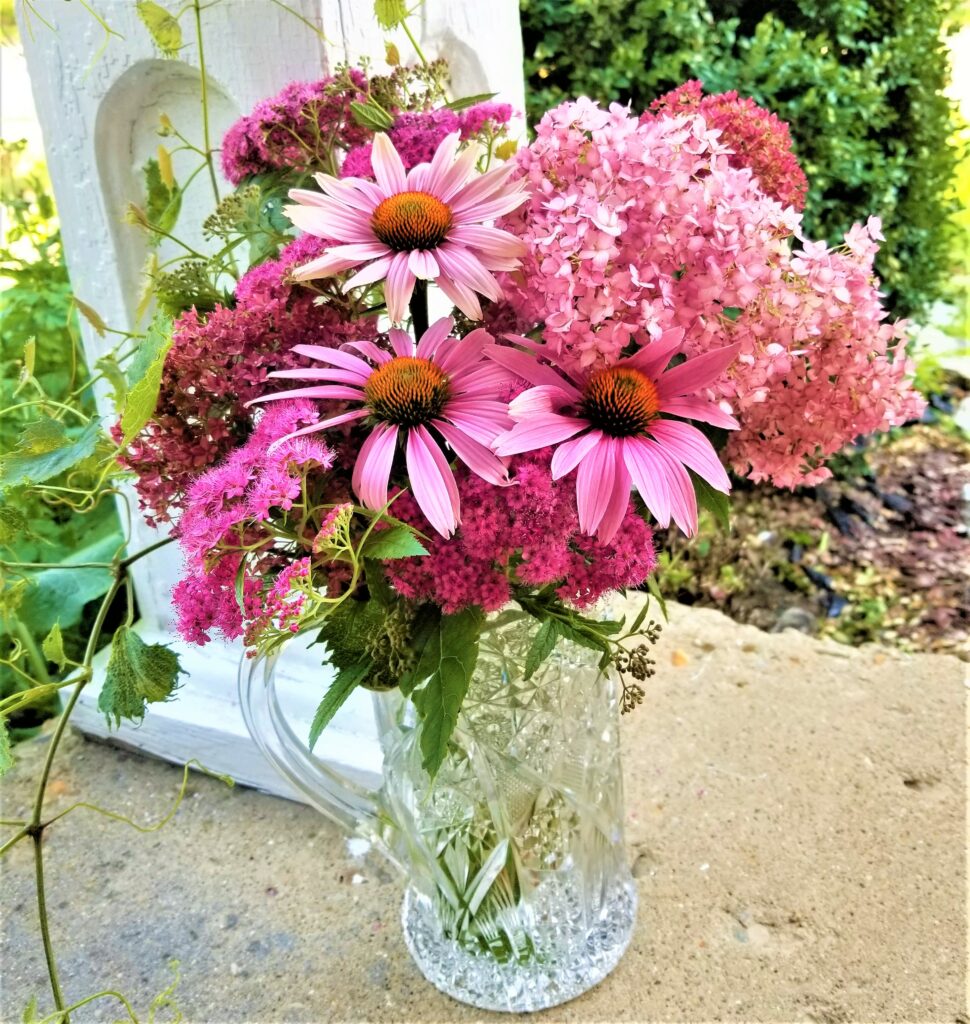 Y'all, I have a thing for chiggers…
but not a good thing…~I DO NOT like them.
I can still hear my mother's voice wafting across the pasture as I headed off on another adventure. One of my favorite things as a kid was walking along the road near our house and picking wildflower bouquets.
"Rachel, watch out for seed ticks and chiggers!" she'd holler.
And I'd tiptoe through the weeds,
you know…"watching out" for them…as though that would help.
The chiggers would always ALWAYS find my ankles and waistband.
The other day, I needed a bouquet for a photo shoot.
We have several places to buy fresh flowers around here,
but hey, why not just shop in your own garden…"for free" right?
I chuckled to myself as I reminisced about the flower bouquets I used to collect and arrange in a vase.
Yes, a vase…mason jars weren't a thing then.
Weellll, they were a thing, but NOT for all things DIY and farmhouse decor. Mother used them for canning.
Flowers in a mason jar…well, that just would not have been right.
So there I was tiptoeing around the yard, "watching out" for chiggers, cheerfully snipping the blooms and arranging them in the crystal vase.
The snapping sound from the green and tender tendrils of the mock grapevine as it released from the evergreen tree, was particularly interesting. As I clutched them in my hand, the vines just kind of flailed around awkwardly in the air as if to say, "What's next, meee lady?"
I popped the cacophony of textures into the vase and stood back and smiled to myself at how the monochromatic colors complimented each other, all unplanned.
It was just an impromptu and happy little accident.
I really don't know what these flowers are necessarily except for the pink hydrangea. I've never seen a hydrangea like this and the blooms are so delicate they almost look like lilacs.
You just never know what wonderful things might be in your own backyard when you open your eyes and shop "for free"!
Have you ever had an impromptu and happy little accident?
…while shopping "for free"
…and watching for chiggers?
~~~~~~~~~~~~~~~~~~~~~~~~~~~~~~~~~~~~~~~~~~~~~~~~~~~~~~~~~~~
I love staying in touch with you. Thank you for being a part of this online space. If you or one of your friends want regular updates on the happenings here, you may subscribe in the box below. Thank you again for your comments, likes and shares. You are the best friends ever.
[mc4wp_form id="1087″]