11 Ideas When Spring Break is a "Staycation" and other ways to make your own sunshine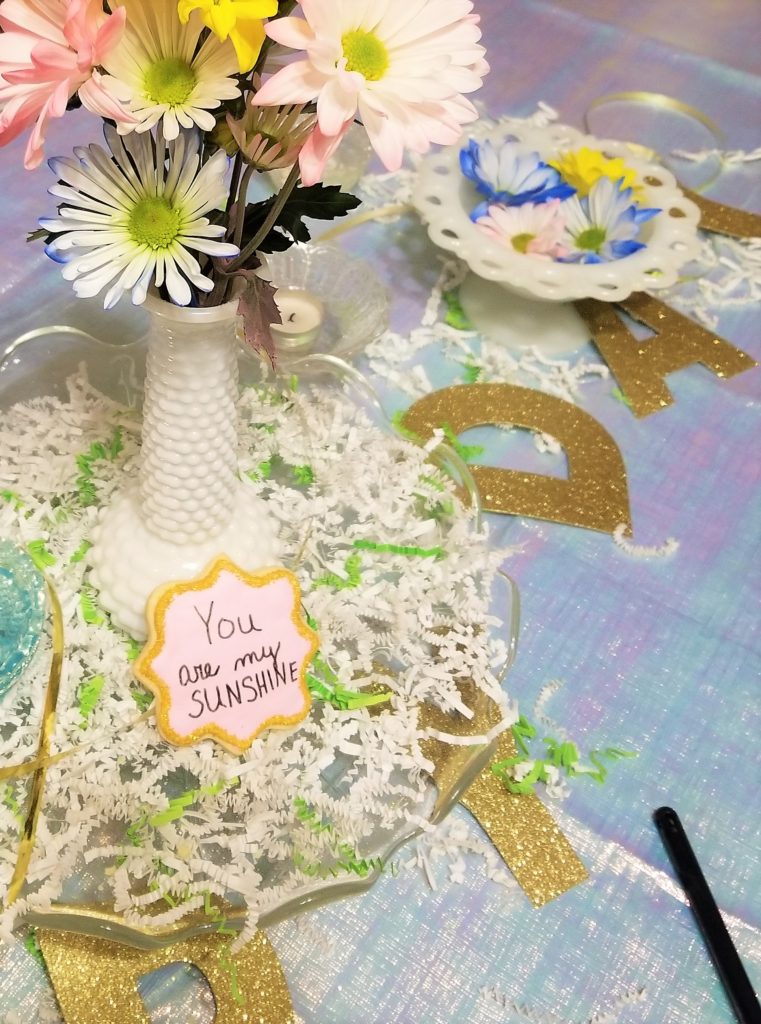 I stood looking at the last gluten free cookie, perched cheerfully against the hobnail milk glass vase of daisies and thought,
"Who needs some sunshine today?"
"Where did that thought come from?" I asked myself. Obviously everyone I knew was craving sunshine, physically and emotionally. I should have had my mind on gobbling that luscious crumbly cookie rather than standing in the middle of the dining room asking myself rhetorical questions.
The Indiana skies were promising to be dark and dreary, again. Each of us was busy, going our own way.
I felt the pull of the dreary myself, but I've learned that the easiest way to resist the dreary, is to focus on something else,
light candles,
play music,
pick up a bundle of flowers at the store and make little bouquets for different rooms of the house,
bake something yummy,
and a personal favorite…eat popcorn.
Later, when we were all home together, Tiffany was lamenting that her band schedule was preventing us from going somewhere exotic for Spring Break with beaches and sand and warm. Of course, that probably wasn't the only thing preventing us from going somewhere exotic, but in her mind it was.
So, in true mom fashion I blurted out, "Since we can't go away, let's look for pockets of joy in the margins of our day."
She cast me a sideways look and with a chuckle said, "Yeah, mom. Ok!"
And Philip suggested looking for pockets of change, in the margins of joy. And then that led to a conversation about "Dad Jokes", and how her friends know his "Dad Jokes", simply by hearing her talk about them.

And that was all…sort of…but not really…
Obviously, we are easily entertained and amused.
If your family is needing some ideas for Spring Break, I've listed a few things we have done when we couldn't go away but wanted to make each day a little different from the ordinary. You know…EXTRA!
I've learned that it really is about perspective…like thinking of all the things we GET to do because there is no homework and the pressures of school are lessened…and keeping my mind off of what we DON'T get to do.
Here are 11 ways to make Spring Break a memorable "staycation":
Have a movie night with pizza and root beer floats.
2.Find a puzzle with Spring scenery or a beach theme and work on it together as a family before bed each night.
3. Have an UNO game tournament. Play a round of UNO each night and see who has the most (or is it the least) points at the end of the week.
4. If it is cold where you live, have a car picnic. Pack yummy goodies and drive to a place with interesting scenery and eat your picnic while listening to your favorite music. If it isn't cold…well, eat your picnic outside your car!
5. Go to the garden center and buy pots of tulips and daffodils that are already blooming. Plant them in the flower bed at home. Even in the cold temperatures, they will generally survive and bring a touch of color to a barren landscape.
6.Visit a local chocolate shop or ice cream parlor and eat a treat that you typically wouldn't have.
7. Pick up sticks and branches in the yard left over from the winter wind and build a bonfire. Roast hot dogs and make smores.
8. If your kids are small let them build a huge fort in the living room with quilts and chairs. It makes a fun place for reading and coloring. Leave it up all week…obvi…
9. Have a party for no reason other than it is Spring Break!
10. Go to a local park and hike the trails.
11. Buy a puppy. (I DO NOT recommend this one, but hey, it did make the week memorable.)
Sigh.
Or when all else fails, just say, "Go play outside and entertain yourself."
Because when it's Spring Break, the sky is the limit for a fun "staycation" and other ways to make your own sunshine.
It's all in how you look at it.
~~~~~~~~~~~~~~~~~~~~~~~~~~~~~~~~~~~~~~~~~~~~~
Thank you for taking time to read and comment and share. Whether or not your skies are sunny or dreary, I love your visits here.
[mc4wp_form id="1087″]