When You Make An Announcement and you're a teeeeeeensy little bit scared, actually A LOT scared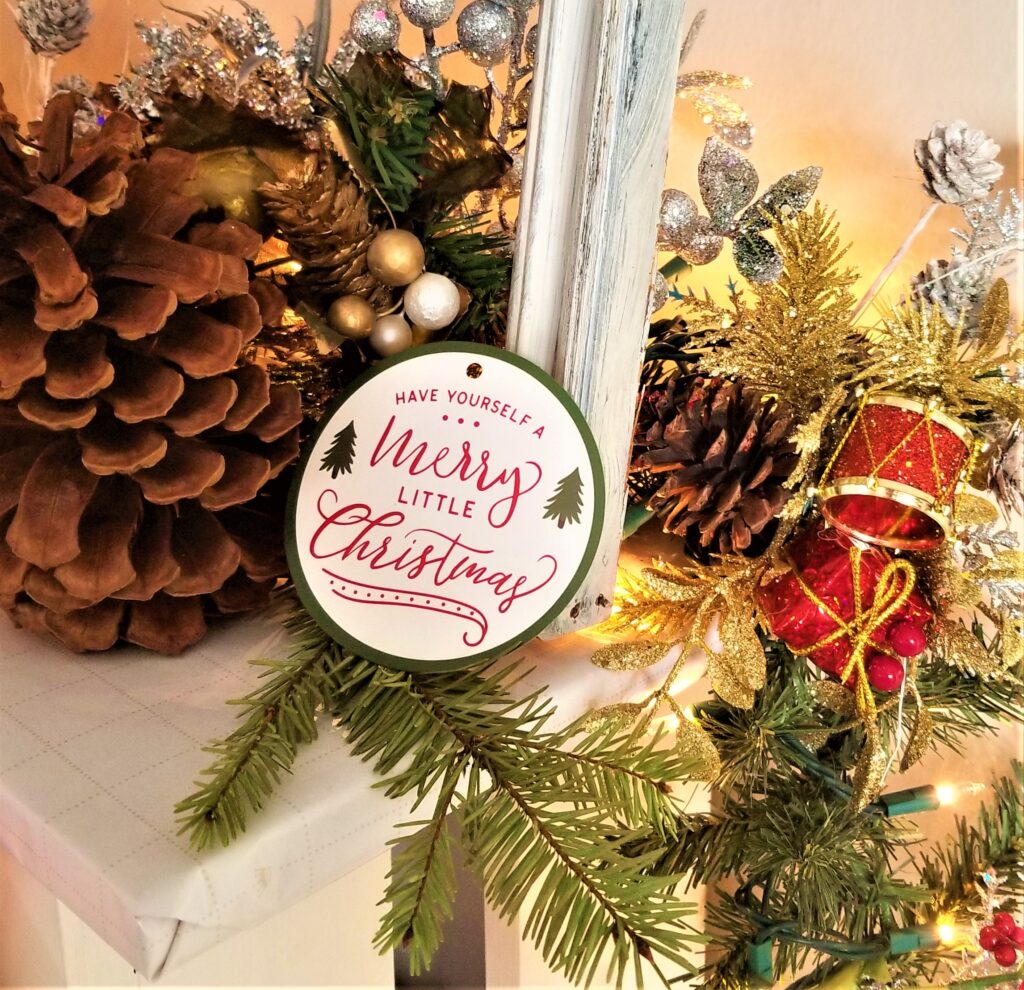 Can I be all about myself and say that I'm just totally out of my comfort zone?
I don't know why it's hard to talk about my projects.
I just like to tell stories. Please read all the way to the end. You just might be surprised. I'll make it snappy! I promise.
Some of you know that along with my Creative Design services, for the last 9 or 10 years, I have decorated clients' homes for Christmas.
I love my customers and look forward to helping them each year.
Monday after Thanksgiving through the first week of December, generally speaking, I hit the ground running…or maybe it's running up and down step ladders and swinging from the rafters dangling from tinsel…or something like that.
As this is an extra service that I offer AROUND my regularly scheduled work load, there is simply no way that I can provide help to all the people who want their homes decorated for Christmas.
I have learned to work very quickly to give my client's the most value for their investment that I possibly can.
My clients typically request help with:
making a gazillion bows
decorating a wreath for the front door
decorating their mantel
and decorating their tree or several trees.
Now, understandably, needs will be different from home to home, but generally speaking those are the most common requests.
So I've come up with a solution in an effort to serve more people.
I am setting up a private Facebook group and for a one time fee of $32.00 you may join my Creative Yuletide Celebration Workshop. (There is a discount option available below.)
In the group, I will be posting a series of videos where I will share all my best tips on how to do the four items listed above.
In addition to that,
there will be time saving hacks
budget friendly options
styling your home for comfort and beauty
decorating with garland
making an elegant tablescape
how to paint a 5′ x 7′ Christmas rug
easy entertaining tips
how to decorate a full size tree in 30 minutes
how to give one tree 2 different looks without redecorating
AND a Christmas tour of our home
along with much more.
I will release the option to participate by this Friday, Nov. 6th. Registration will be open till Wednesday Nov. 11. There will be a secure online one time fee of $32.00. You will be added to the group upon receipt of payment. If you all ready know that you plan to participate and message me privately before Friday, I am offering a discounted rate, listed below.
At the risk of stating the obvious, this is substantially less than if you had me into your home to do these things for you. I am excited to be able to serve you in this way.
I promise you that you will be inspired with joy and hope…and if you're feeling a little ordinary…well…you've come to the right place for just a little dose of extra.
Membership will be limited but I know you will enjoy making new friends and sharing good tidings of comfort and joy…something we are all longing for.
I plan to bring you all the fun and joy that I would bring if I were in your home helping you prepare.
Now y'all…this is where it gets just a tad bit diiiiicey!!! (said in my best Arkansan voice)
I'm a "creator, a doer, a thinker, a list maker, a hurry up and get it doner"…and all this "show up and do stuff online"…well it's uncomfortable for me.
But I'm also a learner. And where there's a will there's a way and I plan to stand tall and make the next best choice and bring you what you are asking for.
I get texts and messages of how to decorate a room, or how to style a look (decor or fashion) and requests to go live on Facebook or You Tube.
SO I'VE done it!!!
I've heard you!
I'm stepping up to the plate and I plan to hit it out of the park.
My You Tube channel is live and I'll start sharing that when I have more videos uploaded.
AND I'm gonna share more live tips on Facebook and Instagram…
…not because I'm all that…
but because you've been asking.
I honestly would rather stay hidden, just doing my creative things here in my little space,
but instead, I'm going to stand tall and be brave and admit that I'm out of my comfort zone
and hit the ground running…
and if you see me dangling from the rafters by red glittery tinsel…
I just may need you to bring the stepladder, PLEASE!!! Quickly!
BUT WAIT THERE'S MOOOORRRRE!
Coming January 2021, I will be releasing my podcast that has been in the works for over a year. I'll be giving you all the scoop on that soon!
So y'all I'm scared…but it's all for you.
I want you to have the best Christmas ever…
surrounded by great tidings of comfort and joy and peace on earth, good will to men.
I'm going to do my part.
~~~~~~~~~~~~~~~~~~~~~~~~~~~~~~~~~~~~~~~~~~~~~~~~~~~~~~~~~~~~~~~~
Please let me know if you have questions. I'll be back to share the pay link for Creative Yuletide Celebration Workshop. If you message me before Friday, you will receive the discounted fee of $25.00. Friday through Wednesday, it is $32.00. (Space is limited) Thank you for being part of this group. You encourage me and the other readers with your presence.