What In The World Does Timberdoodle Have To Do With Fireflies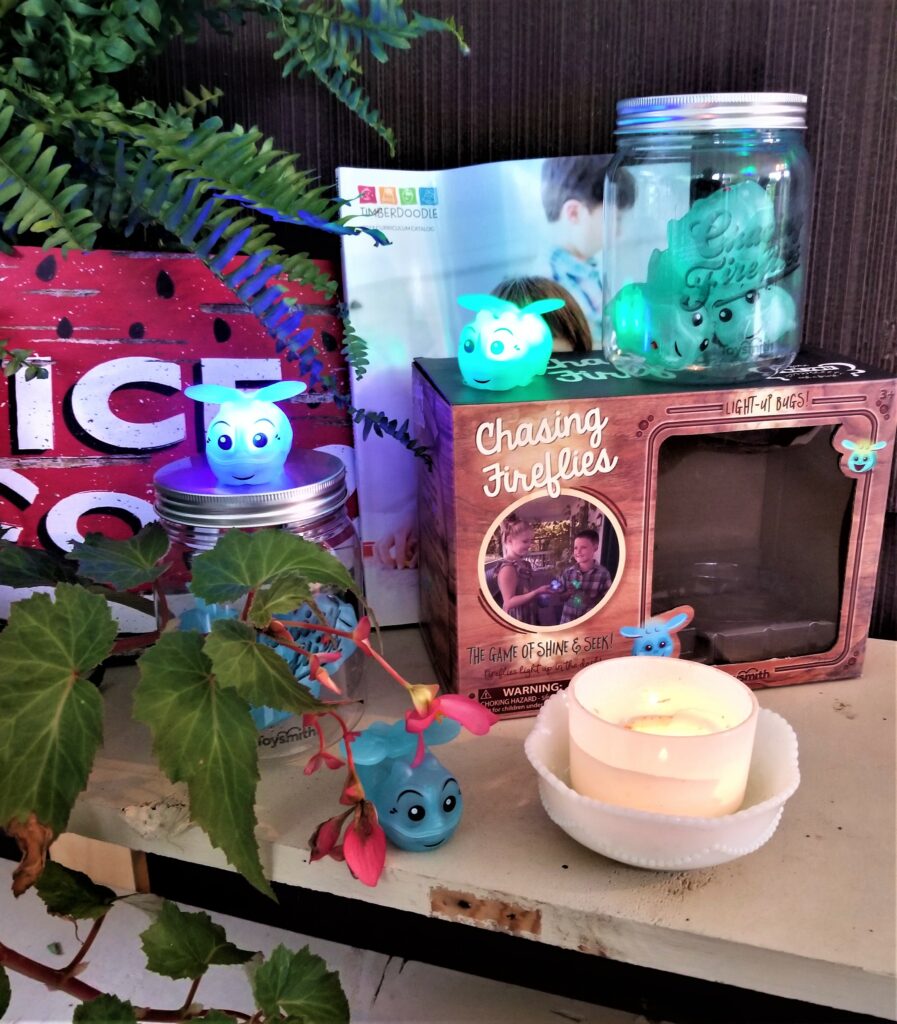 In Arkansas we call them "lightnin' buuugs" .
Here in Indiana, I've heard them called lightnin' bugs AND fireflies.
So honestly, it kinda depends on who I'm talking to, as to which term I use…
…you know…kinda like dinner or supper.
(It's supper y'all. Just sayin')
It's always so fun when the kiddos want to catch lightning bugs just at dusk and put them in a jar for a bit to watch their collective lights, glow against the wall of the mason jar.
That has always been a favorite summertime activity for our family.
But what in the world does Timberdoodle have to do with fireflies?
Timberdoodle is a curriculum company that provides unique and quality learning materials. So when I was contacted by their company to be a product "reviewer" for honest reviews on my blog I jumped at the chance.
Many of my family and friends are homeschool families and I believe Timberdoodle's products are a great tool to enrich their learning experiences.
Several weeks ago, one of the products that I was given an opportunity to review, was the game "Chasing Fireflies". This is the link to it.
Since catching lightning bugs is one of our favorite summer fun activities AND we had family reunion coming just around the corner, I was thrilled to give this product a review!
I'm sure the game could be played many different ways, but I chose to play it with the little ones who were at our family reunion.
The game comes with plastic "bugs" with a battery powered light that flashes. There are ten "bugs". Five are blue and five are green. There are 2 plastic jars. So I simply hid the "bugs" like I would hide Easter eggs. I made sure their lights were flashing. I told them (the kids, not the bugs?)when they found a bug to put the green bugs in one jar and the blue ones in the other jar. When all the bugs were found, I had a prize for each of the kiddos who played…because you know…they are all my sweet little cutie patooties(again, the kids, not the bugs?) and I wanted to give them a gift.
Anyway, the game moved along quickly and it was just enough time and fun to occupy them for a few minutes.
As I stated earlier, I am sure you would find several ways to adapt the game to the age of the players, the area of play and the available light.
I was impressed with the sturdiness and creative graphics of the box.
(I know…I'm easily impressed…).
The sweet little "bugs" have a cute (or creepy) face, depending on your perspective.
The design of the plastic jars gave the game a vintage vibe, in my opinion.
A few of the "bugs" had to have their batteries adjusted in order to properly flash. But that was quickly remedied with a simple adjustment.
I think this will be a fun game to have in our game drawer as I can see many different applications for fun and learning. And if touching "buuugs" is not your thing, well…they've gotcha covered.
I can't wait to play it with our sweet little Grand Miracle, and watch him SEE the flashing lights.
I was compensated with a game in exchange for my honest blog review.
So to answer the question:
what in the world does Timberdoodle have to do with fireflies…?
…THAT…simply that.
And is it "lightnin' buuugs" or fireflies…
OR dinner or supper?
It's supper…just sayin'
~~~~~~~~~~~~~~~~~~~~~~~~~~~~~~~~~~~~~~~~~~~~~~~~~~~~~~~~~~~~~~~~~
Thank you for your chats here. They mean so much to me. For regular updates, you can subscribe below, or scroll on down and leave a comment. I LOVE hearing from you!
[mc4wp_form id="1087″]