One Easy Way To Learn Something New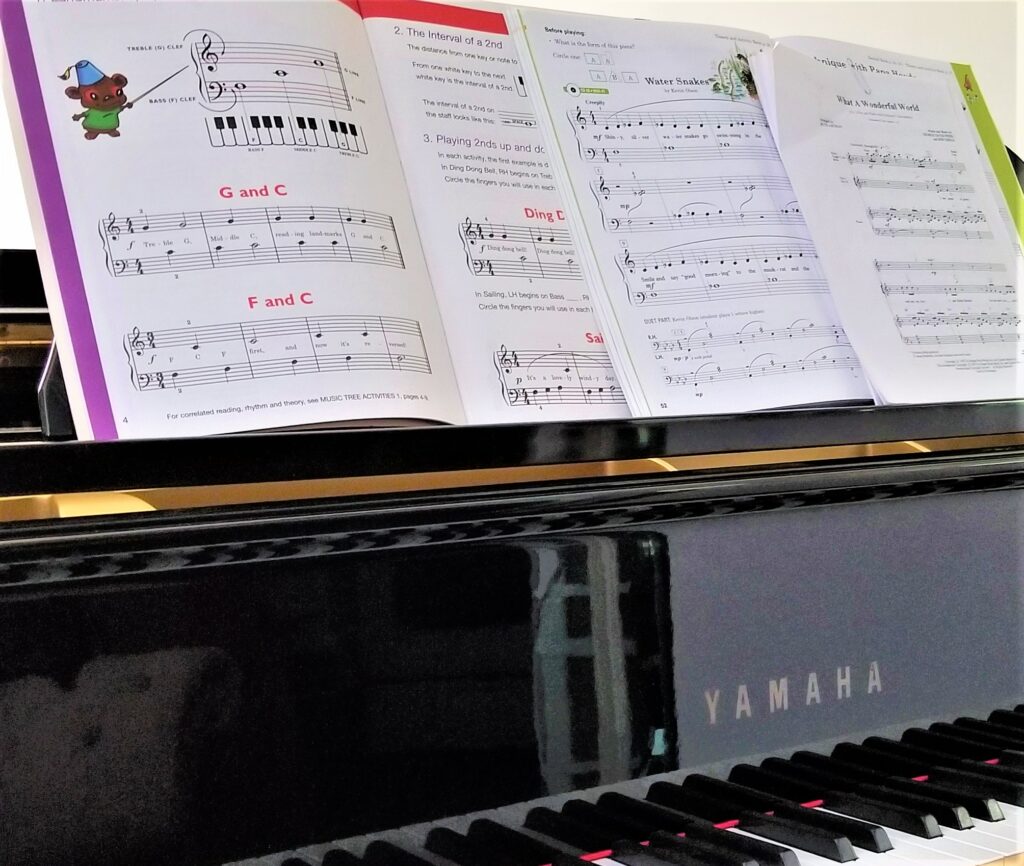 It seems like we are in a never ending cycle of school around here.
Are the lazy days of summer a figment of my imagination?
The "actual" school year ended on May 31, but summer classes picked right back up on June 3, with classes and marching band practice and requirements for Calculus class…(my daughter not me! whew! no not me) or she'd be behind when "actual" school starts again the end of July and make sure she had a book read for AP Language Arts before school starts and today marked the start of marching band practice for the 2019 season.
Run on sentences are my favorite! Can you tell?
Sigh
So she had about 4 weeks off from marching band and decided after she got out of summer class each day she would learn to play the piano.
Because, why not?
And at least she loves to learn.
So each day after class she practiced piano. Well, not everyday, but a lot of days. She pulled out piano books. After finding some that seemed to fit her skill level, she started in.
She committed to practicing just 15 minutes per day.
But the fun thing is, once she sat down and started practicing, 15 minutes easily turned into 45.
I loved hearing her learn to play using both hands. It's a memory I want to keep forever. And my other favorite memory about her learning to play is hearing her figure out the placement of her fingers on the keys as they related to the progression of the music on the page.
Because you see, her first instrument is clarinet and her second instrument is saxophone. On those two instruments there is only one place for your fingers to go to make each specific sound. (More or less I think!)
Listening to her as she realized the beauty of ten fingers making music on 88 piano keys was fascinating to me.
So this week she's on the count down to finish summer class projects because 12 hour marching band days start next Monday.
So one easy tip to learn something new:
commit to working on it a little bit each day.
I know…profound, huh? I couldn't wait to tell you!
You're welcome!
She's not a classical pianist in these 4 weeks but she's way farther along than she would have been otherwise.
Maybe some day I'll tell you about what I'm learning new. I've allowed myself four minutes per day to learn.
I figure you're never too old. At least I'm not going to claim to be too old.
What are you learning new this summer?
Now you know…
…one easy tip to learn something new:
work on it a little each day.
~~~~~~~~~~~~~~~~~~~~~~~~~~~~~~~~~~~~~~~~~~~~~~~~~~~~~~~~~~~~~~~~~~~~~~~
Thank you for your comments. I am honored that you follow along. If you'd like regular updates directly to your inbox, you can subscribe below.
[mc4wp_form id="1087″]