The Cheesiest "Promposal" Ever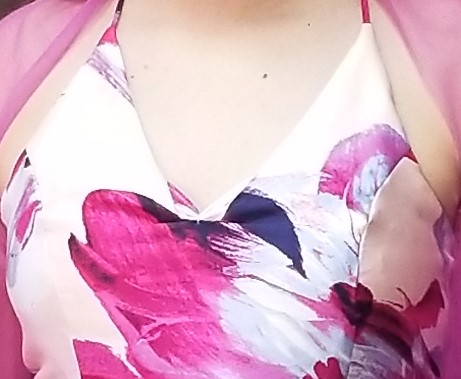 "Mrs. Going, this is my prom dress. Can you fix it for me?" Above the text, was a photo of her in the dress.
Her smile could have lit the golden gate bridge. Joy and excitement seemed to sizzle from the picture right through the phone screen.
Everything about the dress, the color, the style, the impressionistic splashes of floral, were quintessentially her style.
She breezed into the shop one evening, after her school and work day ended, for her first fitting. Tall and beautiful and confident in her decisions and choices, it was fun to work with her.
My mind reminisced in bittersweet ways of the passage of time…
the fleeting vapor of life…
I'd known her since she was in second grade. My memories saw her cute little smile and her childish arms draped over the door frame that surrounded the lowered car window,
but in reality, there she stood before me a pillar of maturity and femininity.
And my heart smiled…and broke…and filled right back up with joy again as I thought about her path beyond prom and graduation.
I don't always know the girls who come to me for help with prom or wedding dresses, until they leave…as friends. So much of my work comes from referrals and it is always fun when I actually know them from the start.
When I lay the finished product in their arms, I feel as though I've almost birthed another baby, by manipulating fabric and lace and beads and rhinestones into the perfect creation of their choosing.

But you know I'm never one to by~pass a good story about an ordinary day or event, and especially those stories that have just a smidge of EXTRA!
And now that I really consider it, I guess that a prom isn't exactly ordinary, though it does happen every year BUT in reality you can only have ONE Senior Prom…so there's that…
She told me her doorbell rang. He is tall, dark haired and handsome of course.
As he stepped across the threshold into the foyer of her home, he was holding a slice of cheese. Handing it to her, he said, "I know this is really cheesy, but will you go to prom with me?" She said, "YES!"
So that my friends is how I heard about the cheesiest "promposal" ever!"
See why I love what I do?
So much joy!
So much laughter!
So many fabulous stories!
Always with just a smidge of EXTRA!
Oh yeah, I should add that his mom may ~or may not ~ have purchased TWELVE (count them…TWELVE) blue shirts…trying to match the color to coordinate with the dress.
I mean…why be ordinary when it is so much more fun to be EXTRA?!!
~~~~~~~~~~~~~~~~~~~~~~~~~~~~~~~~~~~~~~~~~~~~~~
What is your cheesiest "promposal" story? Thank you for your comments and likes and shares. If you wish to get regular emails from the blog, you may subscribe below.
[mc4wp_form id="1087″]