Coal for the Stockings, the Year of the Mistletoe and a Beacon of Light
Our Christmas dinner roast ranks right up there in prestige with the Easter ham.  I burned both this year.  Oh those poor poor meals.
The Christmas roast, not wanting to be out done by the overly cooked Easter ham, seared its way to the solid consistency of coal in about 5 hours flat.  I could have used it for coal and stuffed it into the toes of the stockings hung with care, had I wanted to. Though none of my family is deserving of coal in their stocking.  I won't enumerate the miserable and neglectful reasons it was charred, other than to say, HELLO, it was Christmas morning! But trust me when I say…it was sad, it was pitiful, and heart wrenching.  The meal was planned and visions of a tender and juicy serving of meat danced in my head as I prepared the roasted veggies and succulent gravy for potatoes.  After viewing the absolutely charred roast languishing on the china platter, my mother in law carefully pried open the oven door and told me the vegetables were roasting.  I told her those were supposed to roast. And we laughed.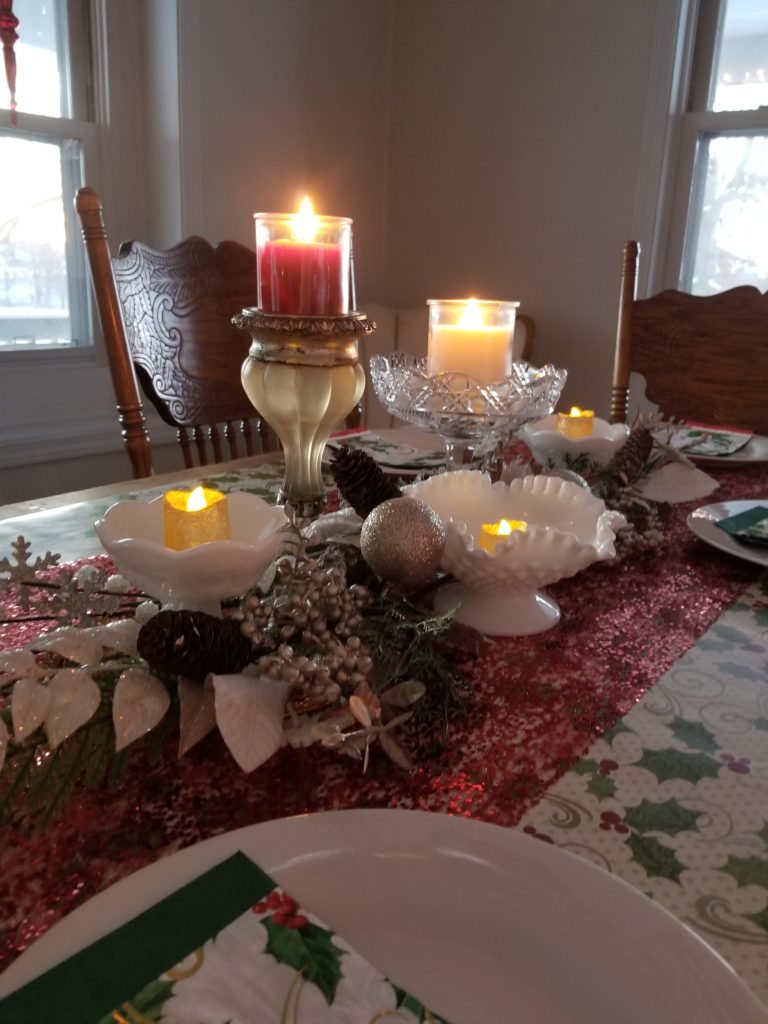 But why should a charred roast which could have been delegated to the spot of coal in the toes of Christmas stockings ruin my Christmas feast? I pretended like nothing unforeseen had happened and the meal went on.  We ate and played games and had a wonderful time on our oh so Merry Christmas. And by the end of the night we had eaten so much our tummies felt stuffed.  So it didn't matter that the roast was charred after all.
The mistletoe which dangled from the center of the ceiling fan, was at the perfect height for Momma to kiss Santa Claus. AND I believe she did just that. Yes, she kissed Santa Claus, or he kissed her.  Whichever way you want to look at it, but I know for sure it happened.  I saw them. Sorta.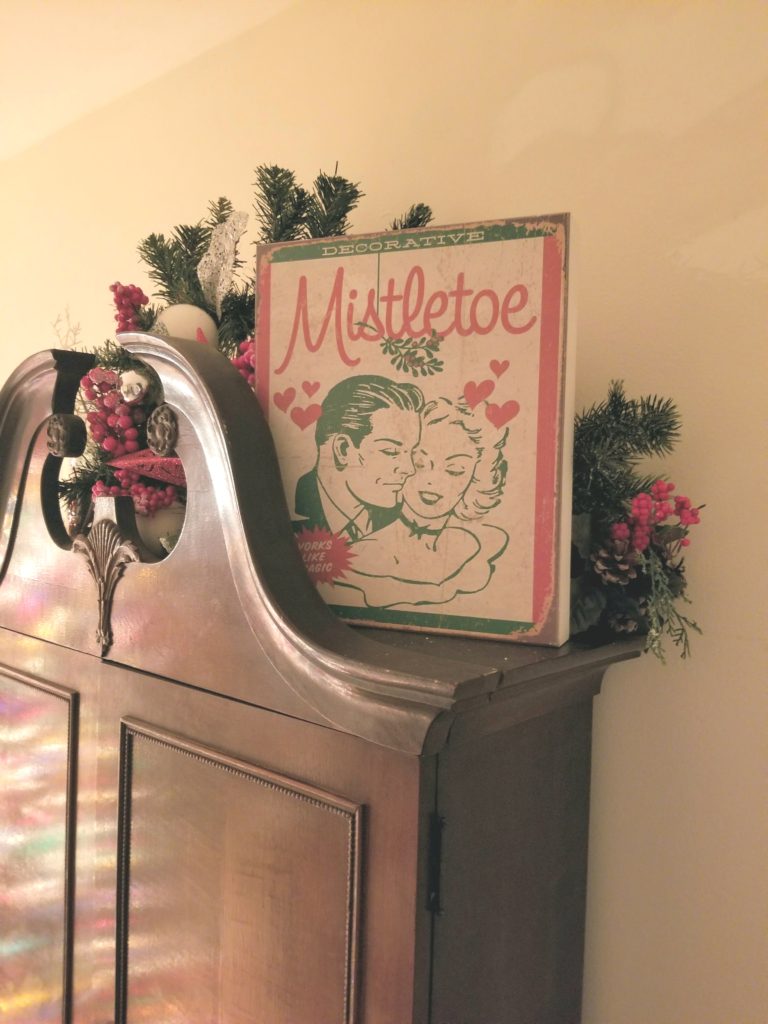 When I was growing up, each year Daddy would search the dense Northwest Arkansas woods for a tree with mistletoe. He would cut a clump of it from high in the tree branches and hang it from the ceiling of the porch. Anyone who walked under it on the way to the front door of the house could possibly have needed a suitor handy, you know, just ready for a kiss.  Now honestly, that may have only happened one time, but in my mind it was a yearly Christmas tradition.  And so consider this as your fair warning: if you are in our home between Nov 1st and Jan 6th, each year, you could find yourself standing under a clump of (fake of course) mistletoe.  Now, mistletoe has a tendency to induce kissing, so make sure you are standing there with your beloved. If my parents could have celebrated on December 19th, it would have been their 80 th anniversary.  Hence,  I dubbed this Christmas season in our home: "The Year of the Mistletoe" and celebrated lavishly with lots of kissing.  Well, you know…when appropriate. Occasionally, we heard gasps accompanied with "Mom, Dad, ugh, that's gross!"
*sly smile*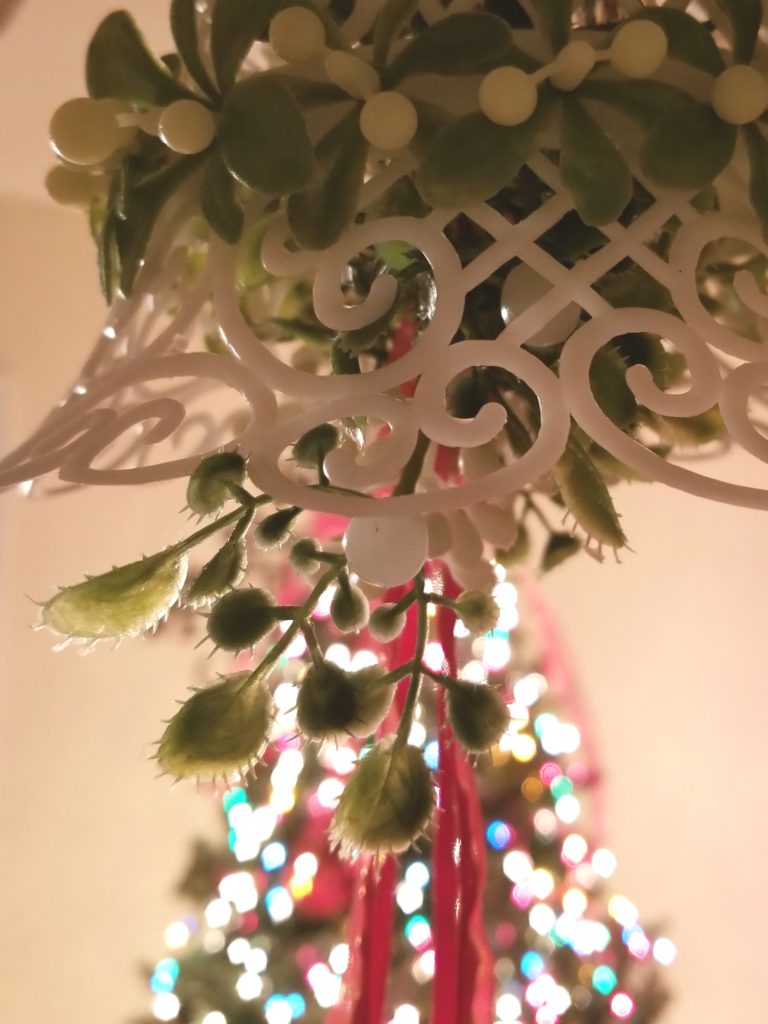 So Christmas came and went, in a flurry of magical snow which fell on Christmas Eve. We stood in the snow and marveled at its beauty.  We took snow pictures and basked in the joy of how unusual it was to have snow on Christmas Eve in Indiana. I know…you can pinch me if you are jealous. The beauty of the freshly fallen snow, the songs of the season and the lights shining through the cold darkness of winter brought me so much joy.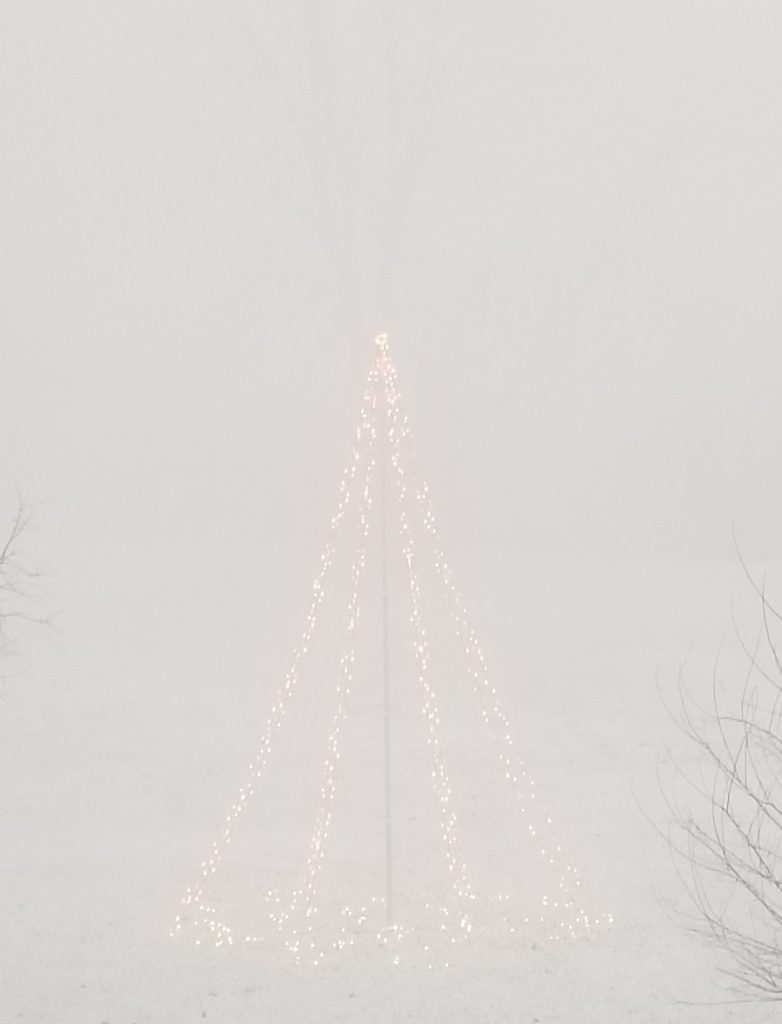 We had guests over the holidays and one evening as a cold but cheerful traveler stepped across the threshold from the front porch, into the little cozy farmhouse, he said,"GPS took me here along country roads, but I knew I was here when I saw the tree all lit up in the field."
That "tree" almost didn't happen.  It was a hope of Philip's  across most of the Summer and Fall to put a lit tree in the field out toward the pond.  On the day that he had availability to work on it, there were several challenges and it almost didn't go up.  But as the darkness was settling in he and Tiffany pulled the last string and plugged it in and light shown through the impending dusk. The many lights of Christmas here at home and round about as we go along our days this season, have filled my heart with happiness.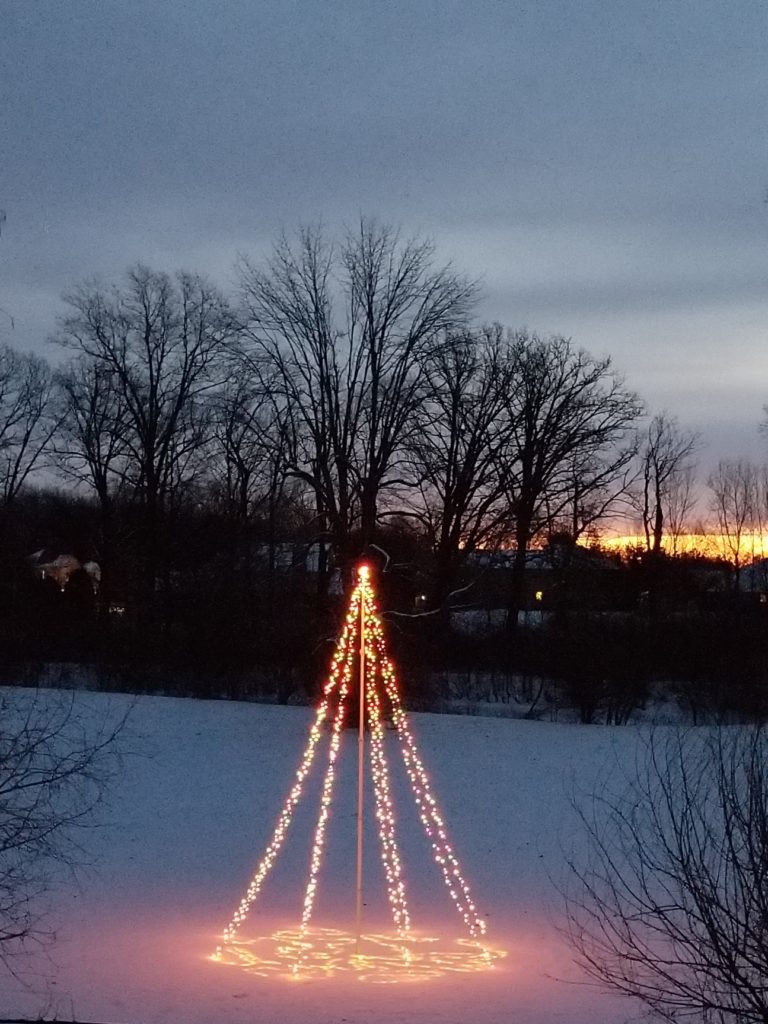 Our world, physically and emotionally and spiritually can be oh so very very dark.  But WE, you and I, have the awesome opportunity to let our lights shine.
We can be a beacon in the darkness. We can be the light that shines brightly to a fellow traveler.  Maybe they are weary with the journey.  Maybe their world has grown cold and dark and without hope.  And then as they round what they think may be their very last bend…their very last hope…or chance.  They see YOU shining your Light of Hope and Love, out in that dark dark field of life, lifted high with rays streaming, beaming through the darkness. They know that from the Light you are shining, their heart can find a place to call Home.
We can be the "extra" Light in the oh so ordinary darkness of life.
So as 2018 dawns, and the lights go down on 2017,
be a Light…
shine joy and hope…
search for it and let your light shine.
I'm going first!
Happy New Year.