So Close To Amazing ! And a giveaway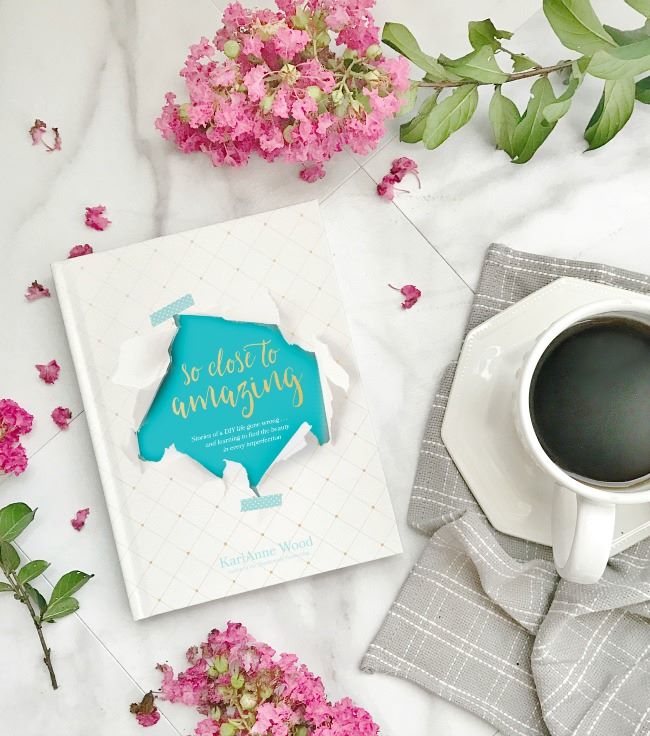 How many times have you felt so close to amazing?
Like your hair was just almost perfect
Or your clothes were fitting just a little looser
Or the house was basically clean
Or your To Do list was all checked off…
even the things on the list that you added just so you could
"check THEM off".
(I know right? I DO THAT too!!)
But still, you just simply thought you fell short…
short of your almost amazingness…
Working
Smiling
Doing
Being kind
Taking care of all the details
Trying so hard to keep your desk cleared
only to have it piled high with another deadline
Picking all the toys off the floor only to have them
scattered again by your rambunctious toddler
All the laundry folded…AGAIN
you've planned great meals
your work schedule fits your needs perfectly…
then something brings you down
bad news
a heartache
running late
a rude motorist
a post on social media that leaves you longing…
Have you been there?
Have you felt like you've lost hope?
Maybe your heart has lost hope
BUT
your brain says, "Hang on a minute…or 5 years.
Hold on…
it's NOT over!! Don't lose hope."
Earlier this summer,
a blogger whom I adore,
and have had the opportunity to meet
IN REAL LIFE (like squeeeeee)
announced that she was assembling a team
to assist in launching her new book,
So Close To Amazing.
I applied to participate and did cartwheels
over the moon
(in my heart and mind)
when I was added to the launch team.
KariAnne (the author of the book) who writes
the blog Thistlewood Farms has been a constant encourager
to the launch team and I am honored to participate.
Once you start reading her book, you won't be able to
put it down.
Unless your kids run through the house with their clothes on fire…
that may or may not possibly make you put it down…but
it is filled with stories that will keep your
tummy jiggling with laughter,
or possibly a tear or two sliding down your fake smile weary cheeks,
or slowly nodding your head to and fro saying,
"Yeah, me too. I just thought that same thing."
So if you've ever felt so.close.to.amazing…
yet, still feel you fall so short,
and you are needing encouragement to "stay the path"
and "keep your faith walk" of your own amazing journey,
then you will find yourself hidden right down deep in the text of this book.
So hurry, pre-order this book through September 4, 2017
There are some great free items included with pre-orders.
AND AS A SUPER AWESOMELY AMAZING OPPORTUNITY
you can read the first chapter for free
by linking to her book section on her website.
Once you read the first chapter…
I'm warning you
that's it…you're gonna want to know the rest of her story
You can preorder this beautiful hardbound book
published by Tyndale Publishers NOW until September 4th.
It will be available for purchase on September 5th.
This humorous, faith filled, thought provoking book is great for gift-giving
or anyone who may need an emotional boost.
Trust me on this
(if you've never believed a word I've said)
trust ME
this book will inspire hope to keep moving on
rising up
and trying
because
YOU are amazing…just like you are.
And even when you feel SO CLOSE
still
YOU ARE AMAZING!
And that's a story I needed to read.
SO NOW for some more fun stuff…
If you would like a chance to win an AUTOGRAPHED copy of the book
leave a comment telling me something amazing.
Like: do you currently read the Thistlewood Farms blog
OR what is your favorite type of blog to read
OR when was a time you felt like you were so close to amazing?
and I will enter your name into a drawing.   You can share this post around if you have friends who may also want to have their name entered. A name will be drawn by random selection to win the book on September 5, 2017.
All you have to do is leave a comment!!!
It's SO easy!
Disclaimer: All my opinions about KariAnne's "book amazingness" are completely my own and absolutely true and viable.  She didn't twist my arm or beg me one tiny bit to get me to tell you this.
But I promise you won't be disappointed.