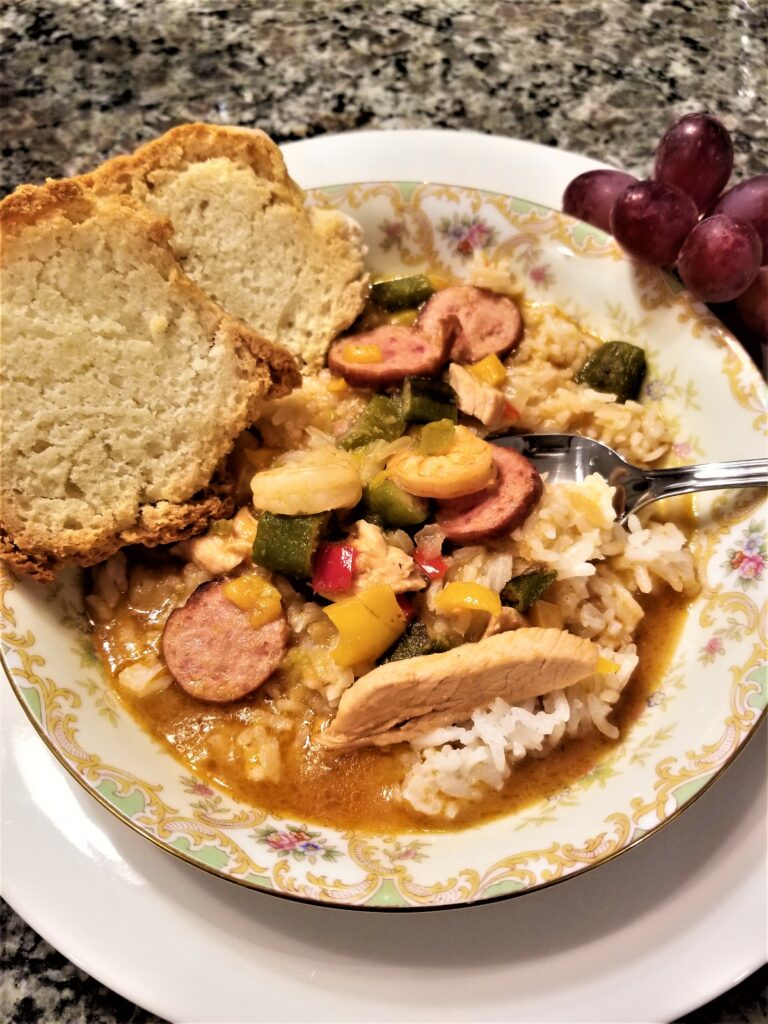 Please tell me you have no earthly idea what a shallot is.
You don't? Oh good. I didn't either till the day before Thanksgiving.
And I'm "this many" oldish.
I'm going to tell you about shallots sometime. But not this time.
I know you're disappointed.
Start stock piling them though, because you'll be amazed like I was.
Now. Gumbo. You do know what that is. Right?
Oh sigh. It's the perfect comfort for a cold night in Indiana, to warm your heart and bones…like a cozy warm blanket straight from humid Cajun country.
Down South were I grew up…well at least south of Indiana, Gumbo is a given…it's a pantry staple in Louisiana. I grew up in Arkansas, but still…you know some things just carry over, I guess.
Throwing pound upon pound of shrimp and chicken and sausage into my shopping cart, I chuckle to myself as I think about barefooted young'uns searching for shrimp and crawdads down by the river bank or somewhere that you can find "shrimps" as they say.
I suppose I fix a grown up version of Gumbo, because I certainly don't go slogging barefoot through the mud to bring in the crawdads.
I could I suppose…but that's just gross…and I don't put crawdads in my gumbo anyway. I told Philip what some people put in their gumbo and his eyes got really big and he looked like he could throw up. So I stopped talking. I was telling the truth though.
If you are really interested in the history of gumbo, there's good ole' google for all your questioning culinary needs. With a simple search, you can find out that Gumbo is the official cuisine of the state of Louisiana. And if you are really lucky, you can find the google version that actually misspells the word Louisiana as "Louisianna". But that is a total aside and has absolutely nothing to do with shallots and gumbo.
I'm not really sure when my family started eating Gumbo. It was probably long before I was born, when they lived in Louisiana for a time, but never the less, it was one of my favorite things that my mother made.
Yesterday I learned that Virginia is considered "the South".
But to this Arkansan who followed her fellow to Indianapolis, Virginia is "out East". It is south of Maine, though.
I digress. And that had absolutely nothing to do with shallots and gumbo either.
So now that I have rambled on about Gumbo, I will share the way that I make it. I've actually been asked for my Gumbo recipe by more than one person…it may or may not have only been two, but still…
how could I keep from sharing.
Now, if you're from the deep heart of Louisiana and Cajun country, please don't come out with guns a 'blazin' because I don't cook my roux until it bursts into flames.
Actually there are many many versions of Gumbo and so much of it is determined by cook's opinion and the tasteful desires of the people eating it. So again, a google search may serve you well.
So if you are interested in how I make Gumbo, read on…and if not…well, I'll talk to you later.
GUMBO
1. Turn your oven on to 350 and place oven proof pan with one cup of flour into the oven. I use a cast iron skillet, but any pan is fine. While you are preparing other ingredients you will allow your flour to "burn" (or bake or brown). This burned/browned flour is the basis for roux. Stir the flour every 15 minutes to insure that it browns evenly. You can bake the flour for as long as you need to get the desired color of roux. I generally bake my flour about 1 hour to 1 hour and 15 minutes to get the color I want which is a caramel color when added to oil.
PLEASE NOTE: this is not the traditional method for making roux. Traditional roux instructions can be found online.
2. While the flour is browning, place thinly sliced skinless polish sausage on a cookie sheet in the oven to brown the edges. I use a package with two large sausage links. When the edges are nicely browned take the sausage slices out of the oven and set aside.
3. Place a large stock pot on the stove with 32 oz. of chicken broth and bring to a slow simmer while other ingredients are being prepared.
4. Place 12 oz. frozen chopped okra in a non stick skillet with a tablespoon of butter. Season well with salt and sprinkle generously with corn meal.
Cook/fry until the okra has browned with crisp edges.
5. Dice 1 onion, 1 green bell pepper, 1 stalk of celery and saute together until tender, in 1 cup of bacon drippings. Once the vegetables are tender, set them aside until the flour is browned to your liking. Once the flour is the color you want, add the vegetables sauted in the bacon drippings to the pan of browned flour. Place the pan of flour and vegetable mixture on a burner set to medium heat. Stir quickly as the flour and bacon drippings will begin to bubble and cook together. This is completed roux. When the flour is cooked well into the bacon drippings and sauted vegetables add this roux to the simmering chicken broth. Mix well to prevent any clumps from forming in the flour.
6. Season the simmering broth/roux mixture with 1 teaspoon salt. a dash of black pepper, 1/4 teaspoon garlic powder, 1/4 teaspoon Tony Chachere's seasoning, 2 bay leaves, 1/2 cup mild salsa. (or season to your liking). Remove the bay leaf before serving the Gumbo.
7. Bring the broth/roux mixture to a rolling boil and add fried okra, browned polish sausage slices, 3 cups diced cooked chicken and 3 lbs of raw, deveined, tail-off shrimp.
8. Add enough water to make the broth the thickness you desire and bring to a rolling boil again, then simmer till ready to serve over cooked rice.The shrimp needs to be cooked till it is pink before serving.
AGAIN: please hear me when I say, I am NOT an expert on ANYTHING, not gumbo making or recipe writing either, so go easy and if you don't like my way of making gumbo, it's ok to come up with your own recipe. This is how my family likes it…and you asked, so I hopped in and delivered!
Haha. IHOP. ed.
Oh my shallots and gumbo…I'm tired! ttyl
P.S. If you have questions, please ask. I'll clarify…and next time, I might even take photos as I make it…if I slow down long enough to do so.
And here's a sweet little ingredient list:
32 oz. chicken broth, enough water to make broth desired thickness after other ingredients are added, 1 tablespoon butter, 1 cup bacon drippings, 1 cup flour, salt, pepper, garlic powder, 2 bay leaves, Tony Chachere's seasoning, black pepper, mild salsa, corn meal, 12 oz. frozen chopped okra, 1 large diced onion, 1 large diced green bell pepper, 1 large thinly sliced stalk celery, 2 skinless polish sausage links, 3 cups cooked diced chicken, 3 lbs. raw, deveined, tail-off shrimp.
Happy Gumbo eating…slurp slurp.
(Please tell: do you like gumbo?)