An Empty Suitcase, A Life Lived Well and FEAR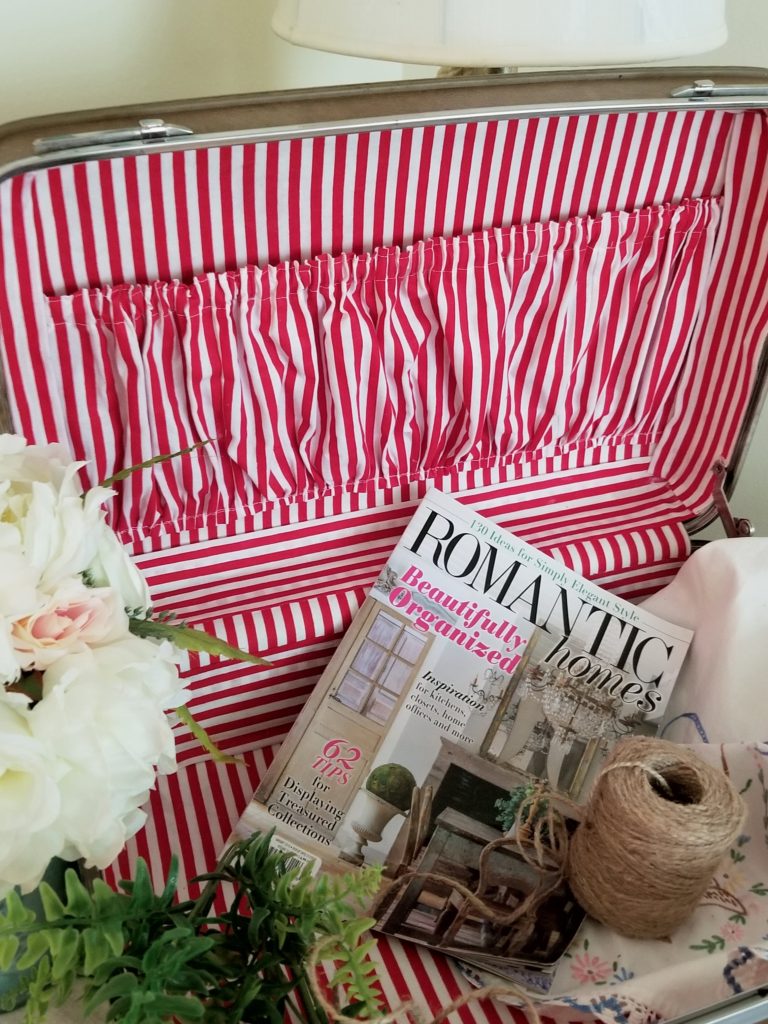 I suppose when you have a creative design business, the sky is the limit when it comes to projects that come your way.
Her handsome son was graduating from High School in June.  He'd found an old vintage suitcase, well, this suitcase in the photo above actually.
Never mind that I remember the day that these suitcases were NEW and MODERN.
*sigh*
Does that mean I am vintage too?
Don't answer that!
OR tell me NO!
But back to the incredibly brilliant student ready to graduate from High School…in all his 18 year old wisdom (I jest here…he's an awesome young man) he promptly ripped the old stained and faded lining from the suitcase.
Placing it in his mom's care, he had one request.
"Please re-line the suitcase, Mom."
So they brought it to my shop with fabric and supplies in hand and my creative wheels started turning.
Upon delivery, I don't know which of us was most excited.  The brilliant graduate about to  embark upon his 2 year missionary journey, the beautiful, bubbly and equally creative mom, or me…curly hair and high heel flip-flops in tow.  We were all delighted with the results.  His mom and I, may or may not have squealed and jabbered with high-pitched excitement and pumped our fists with delight at we exclaimed about the newly placed "lining".  He smiled his winsome smile and gave a thumbs up! In a few days he was gone to  Missionary Training School.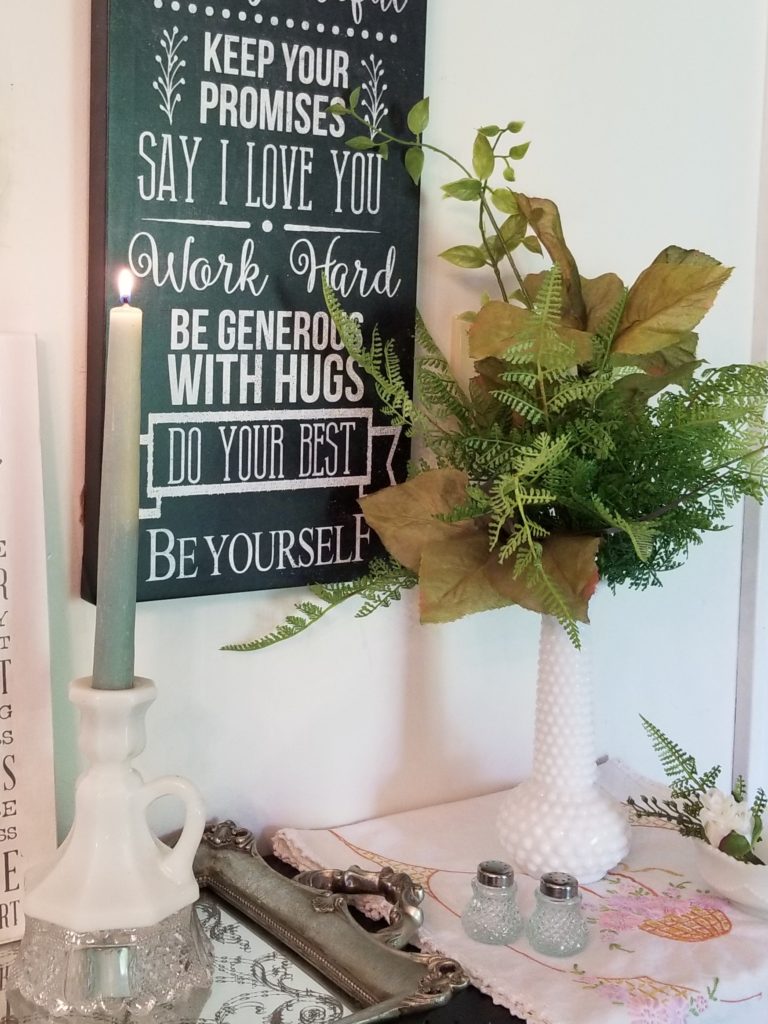 I've thought so much about my clients and their projects that flow through my hands. I've met wonderful people and crafted deep and abiding friendships as my fingers have worked to meet their design needs.  Many times I pray for them as I work. When their project comes to an end and I hand over a wedding dress or bouquet of flowers or other creation made from their personal treasures, like this vintage suitcase, I almost feel like I'm handing over a baby for adoption.
When my life is over and I'm laid to rest, I won't have a suitcase full of beautiful creations or meaningful events or elaborately decorated homes or Christmas trees or client files or phone messages, to take with me.
All I will have is faith and trust in an Eternal God and Jesus, my Redeemer, and the lifestyle of love I attempt to live everyday with my family and friends and those I come in contact with.  Those thoughts bring me to this: My sister-in-law, Annette, lived her life well.  She kept the end, the day of the empty suitcase in mind.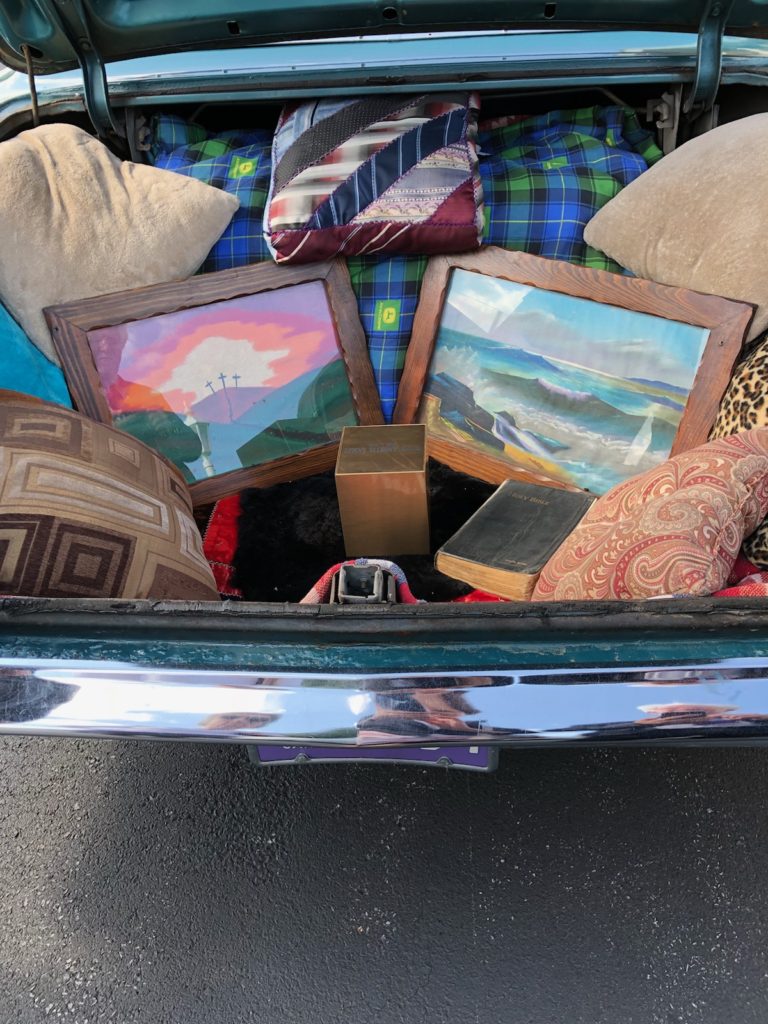 I learned early on, as the youngest of 10 siblings, that my life experiences are different compared to typical family structures.  Three of my siblings were married when I was born and instead of growing up with cousins, I grew up with nieces and nephews.  The lines of love and relationships are blurred for me as my brother's-in-law and sister's-in-law and nieces and nephews feel like siblings.
As a wee tiny lass, I have one physical memory of Keith, my brother, and two mental memories in which he is included, before he married Annette.  So realistically speaking I don't know Keith, my brother, without Annette his wife.  Today those of our family who could gather in Pennsylvania, cherished her memory.  This week here in Indiana, we will cherish her memory again and then, once again in Louisiana, the place of her birth.
Three of my siblings, married Annette and her sister Dianne and their brother Darrell.   Keith my brother would tantalize mother with this question.  As a small child I would hear Keith ask her over and over again, "Mother, out of our WHOLE family, all of us, everyone, isn't Annette the most beautiful and your very favorite?"
He would be right up near her side to make sure she heard him imploring with the all important question.
My childish ears strained closely for mother's response.  She would chuckle and say,
"Keith, that's exactly what I want YOU to think about her. It's my job to love who you love."  Ah, a wise one she was.  And so our family love grew and grew and I don't know Keith without Annette.
When she began to have challenges with her memory, we were heartbroken to see someone so vibrant and alive, busy with life and work and serving in her church as a pastor's wife, playing the piano and organ, hosting VBS and giving food to the needy, entertaining friends and family and co-workers, struggle as a dreaded disease left dark questioning holes and blurry vacancies in her brilliant mind.
True to his unique style of engaging the congregation with an object lesson, I remember Keith preaching while he painted pictures with chalk. That was one of the ways he conveyed the message of the gospel. As he drew and sketched and smeared that chalk (all while talking)  Annette would play music, generally a hymn, that related to the theme of his sermon.  I remember sitting quietly, and listening intently as Annette knew just when to play the music…when to make it soft…loud…expressive and vibrant.  I remember looking from Keith to Annette as they worked together, sharing about a loving Redeemer.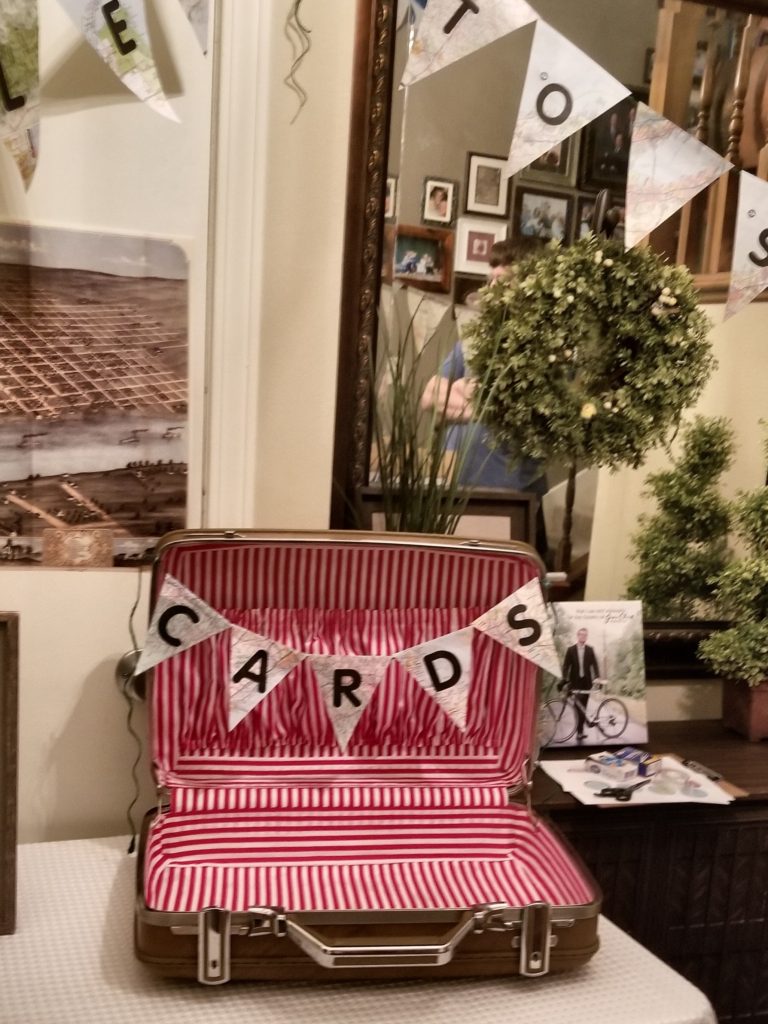 Annette is gone now.  I don't know Keith without Annette.  She has moved from our past and present to our eternal future.  Her mind is clear.  She's been reunited with the loved ones gone before.  Her suitcase was empty of earthly possessions. She made the journey to her eternal reward with faith in Christ and the lifestyle of love she attempted to live everyday with her family and friends and those she came in contact with.
So why do we so closely guard our thoughts and feelings, our sorrows or joys, and even sometimes the message of a Redeeming Savior?  I've asked myself this question.  Is it fear? Is it pride?  Am I afraid that you will think this post is all about me and my sorrow or my family and Keith and his sorrow?  Yes, I admit I do fear that.  I fear writing the words I've written and publishing them.
I don't want to be misunderstood. I truly fear that also. It holds me back and paralyzes my words.  The feeling I want to convey (I know that my brother Keith would agree) is that all of us have challenges.  All of us have a story.
Our story shapes our lives and molds us into who we become…how we live.
We can't always choose our story.  We can only choose our response to it.  We can choose bitterness and misery or we can choose grace and love.  Isn't that amazing that we get to choose!!!??
And when that time comes that all the contents of our suitcase are emptied, we get to choose what we take along.
Faith in Christ and LOVE.
THAT is ALL.
That's why I share this window into our day, our family.
I know that not all of you who read these words share the faith I have in Christ.  That's OK. I don't need to convince you.  I only need to love you.  It's God's job to reveal himself to you and it's your gift to choose or deny.
I admit that fear and pride is nipping at my heels, trying to hold me back from the realities of MY story, our family's story.
I admit that it is tempting to focus on the sorrow and ignore the fact that life mixes the sorrow all up inside the beautiful.
Life is like a tapestry of dark sorrow and brilliant beautiful all woven together.
While embracing the sorrow, I choose to focus on the beautiful.
Annette, Keith still thinks out of our WHOLE family, all of us, everyone, you are the most beautiful and his very favorite.
It's our job to love,
because
That's the beauty of LOVE,
an empty suitcase,
AND a life lived well.
 But we have this treasure in jars of clay to show that this all-surpassing power is from God and not from us.  We are hard pressed on every side, but not crushed; perplexed, but not in despair, persecuted, but not abandoned; struck down, but not destroyed.  We always carry around in our body the death of Jesus, so that the life of Jesus may also be revealed in our body.
2 Corinthians 4:7-10