You Don't Know What You Don't Know ~ don't just show up as a spectator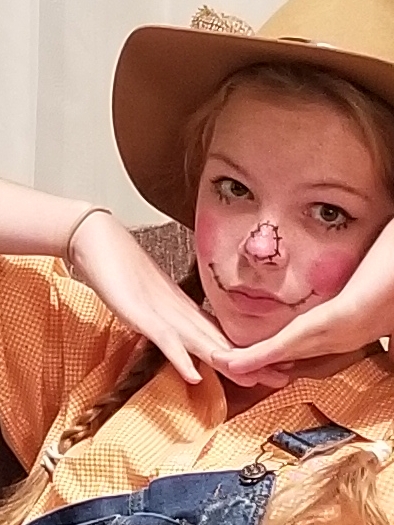 The room sizzled with awkward beauty attributed to pre-teenage girls.
Chatter bounced from one to the other
about boys
and who's dating
and clothes
and half-up-half-down-hairstyles
and whether "so and so's" "winged eyeliner" was on. point.
Keeping myself right smack dab in the middle of the dream-filled youthful conversation,
I said, "Always remember, no matter what, God loves you."
With that statement, my daughter's friend came face to face with me, shoulders squared.
Her hazel eyes looked intently into mine and she declared,
"Well, I don't believe in God."
Quickly she turned her freckled cheek to the side and lifted her button nose into the air.
With a jut of her chin and flicking her hair over her shoulder,
she gazed at me from her sideways stance.
Her expression exclaimed,
"So what do you think of that?!"
With only an instant to reflect, I responded,
"It's OK if you don't believe in God.  Because I know without a doubt a time will come where you will see undeniable evidence of HIM and you will KNOW that HE is real. Then you can decide if you really do believe in HIM or not."
Because you don't know what you don't know.
And maybe, she just showed up as a spectator to the party anyway.
At the end of 7th grade, our daughter, along with some other band members, was given the opportunity to join the High School Marching Band as an 8th grader and practices started immediately (the middle of May) for the Fall season.  We let her attend one practice and then decided resoundingly that NO in fact she could not be in High School Marching Band.  We had legitimate reasons that were good and valid and those reasons served our family well as we walked through life that school year.
And then, much too quickly for this momma's heart, it was time to make  the decision for High School Marching Band, yet again.  My heart was closed. The issue was set. Our reasons were valid. We'd discussed them at the end of 7th grade…nothing had changed, had it?
She didn't beg or argue.
NO, no to marching band, were my thoughts.
And then one day Philip said, "I think we need to consider marching band."
So we made a list of pros and cons and I began to talk to parents and students and anyone knowledgeable to try to get a grasp on every angle of involvement, not just for our student, but for our family. After weeks of gathering information and deliberating and again considering the pros and cons, we decided that it was valid to change our no to a yes…not based on emotional persuasion, but thoughtful consideration of information, our evidence.
High School Marching Band is intense and grueling.
It's filled with hard long hours of practice
and memorization.
And amazing performances.
From a very honest heart, I will tell you that I DREADED the start of the practice season in mid-May
and the grueling schedule. Sigh…
But as we became involved…
…these weeks have flown by.
Well, you know, time is notorious for flying past
and the first season of our exposure to marching band has ended.
As it has drawn to a close I have reflected on the opportunities our daughter has had,
but also,
the new opportunities that our family has had.
We've made new friends. We have a new circle for life influence.
We've traveled to places new to us…right here in Central Indiana.
Granted, some of those new places were the metal bleachers of a neighboring High School,
but yeah,
still new to us.
We have seen detail and precision on finest display. These are elements that we enjoy.
We have heard beautiful harmony performed in ways that boggled our mind
as the band maneuvered around the field.
AND we had opportunities to pray for students struggling with life issues.
Our eyes have been opened to new ways we could lend help and hope
and
NOT
just show up as spectators to the party.
We now have evidence of  what Marching Band is.
We now KNOW what we didn't previously know…
So here's the question…
What are you saying NO to?
Is it no to God?
Is it no to a new opportunity?
Is it no to giving up an addiction?
Is it no to showing kindness
or love
or a helping hand in spite of hurt…?
After gathering your evidence
and listing  the pros and cons
you may see that it is indeed
valid to change your NO to a YES.
It may be a new opportunity for positive influence.
This is real life.
You only have one.
Real life is meant to be lived NOW…not later.
Get involved…
make a difference…
be kind…
show love…
lend a hand…
and don't just show up as a spectator to the party.
Shine your light.
Put the extra…in an ordinary day.
~~~~~~~~~~~~~~~~~~~~~~~~~~~~~~~~~~
Thank you from the bottom of my heart for your kind comments and sharing these blog posts.  I am humbled and honored by your kindness. You truly do add extra to ordinary and joy to the journey. I love to surround myself with positive life changers just like you.
For updates on the blog, there is a subscribe button if you scroll all the way to the end of the page on a mobile device or in the upper right hand corner of this page on a computer. Thank you again.
Together, you and I, we can make a difference.