How To Make A Centerpiece For Less Than $5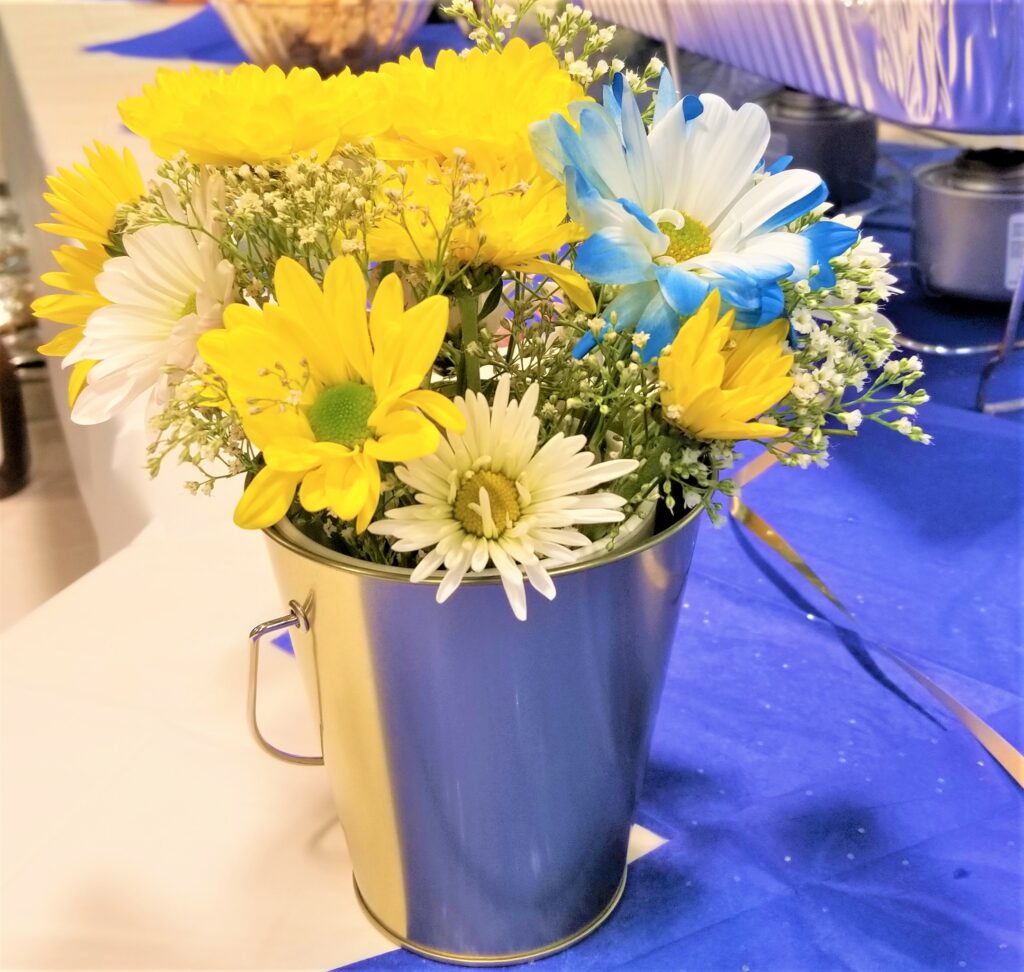 If you aren't into blue and brassy gold for your festive centerpieces, just hang tight!
I get it, I really do.
I understand your angst.
However, if I'm helping with a school function at our school or a graduate's Open House, then I'm ALL about the royal blue and brassy gold.
Truly y'all. Let's hear it for the blue and gold!!
But seriously…
I have a question…
…do y'all have Open Houses for high school Seniors when they graduate?
I've been told that it's just a "thing" around here. The whole and entirety of the USA doesn't celebrate graduation in this manner, apparently.
So please!! Do tell what happens in your neck of the woods, or field of green.
Now when I grew up in Arkansas, we would have parties after graduation, you know, like hang at the Dugger's house and eat pizza or stand under the awning together down at Dairy Dream and eat a "Mountainburger".
But y'all this is a whole 'nuther' level.
Here, where I live, you invite all 500 of your closest and dearest friends and feed all of them a ginormous meal, with several desserts including a celebratory cake.
You clean your house for months, paint the exterior trim and re-landscape your yard just for grins and giggles.
It's seriously all wonderful fun. Then on the "day of" people show up that you haven't seen for YEARS and everyone laughs and talks and exclaims how time has passed so quickly.
Does anyone know what I'm talking about?
We'll still be celebrating till the end of June. Nearly!
But the centerpieces…I got side tracked.
If your graduation Open House is over, this would be an easy little application for your 4th of July party.
How to make a centerpiece for less than $5.
Pick up a little metal bucket at Walmart for .97 cents. Y'all this is the cutest thing. But it won't hold water. I found this out the hard way that there's a hole in the bucket, a hole in the bucket, yes a hole in the bucket…but never mind, just place a Styrofoam cup inside the cute little bucket and fill it with water for the flowers.
Select a cluster of Baby's Breath flowers for approximately $4.
Select a cluster of assorted flowers in your color of choice for approximately $4.97.
Divide the Baby's Breath and the assorted flowers into 3 similar clusters.
Cut the stems to size them in the little bucket.
After placing the Baby' Breath and assorted flowers in the bucket, fluff them a little bit and tell them how cute they are.
Place your three little buckets of cute flowers in your desired location and then pat yourself on the back for making such adorable centerpieces for $5. (maybe less)
If it's your "thing", jump up and down and squeal with happiness.
So that's how you make a centerpiece for $5.00 or less.
And please let me know if you have ever hosted a graduation Open House .
You may sign up here if you'd like to get other tips that I share from time to time, or you just want to come along as I chat about finding EXTRA in the ordinary.
[mc4wp_form id="1087″]
Thank you from the bottom of my heart for all of your comments and likes and shares. I love having you along for the adventure. Tell your friends that they are invited and bring them along too. All 500 of your closest and dearest friends will be fine with me.