When Saturday Hands You A Snow Cone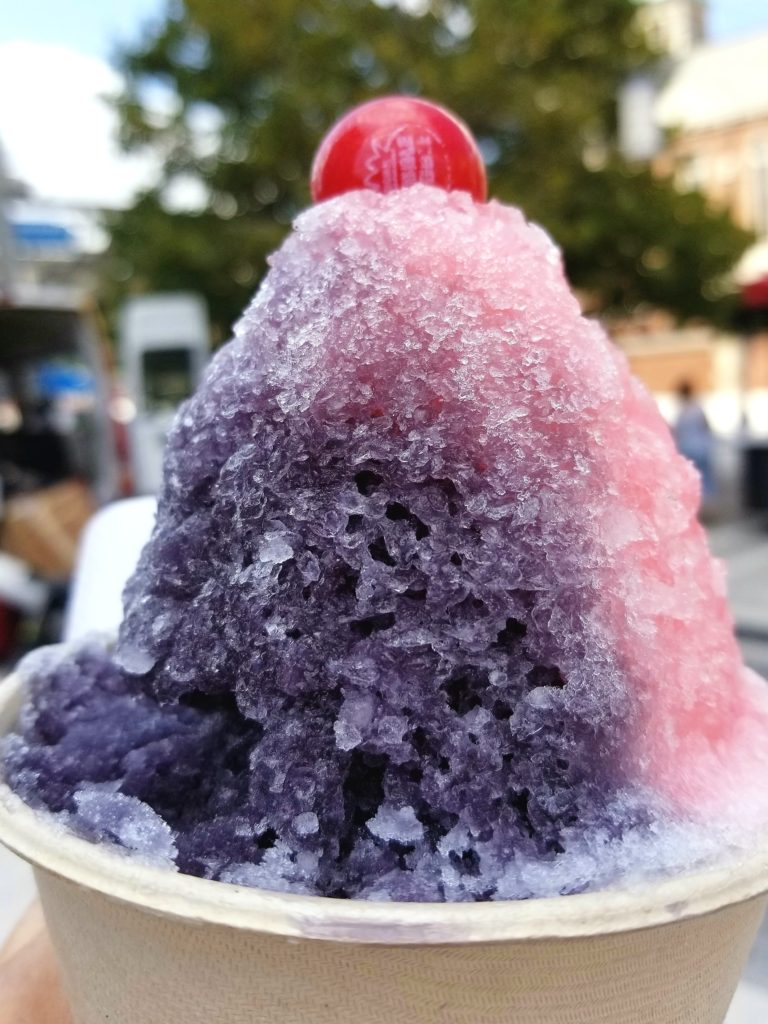 When Saturday hands you a pink lemonade
and grape snow cone
with a red "Dubble Bubble" gum ball
perched solidly on top…
What's a girl to do?
Well you do what any self-respecting girl would do
and
take two white plastic spoons
and four paper napkins (or 16)
from the condiment shelf on the snow cone truck.
Take one spoon for yourself
and
one spoon to share with your husband
and indulge in the frosty sugary goodness.
It is very important though
to totally keep your mind focused on the frosty goodness
part of the indulgence
and absolutely ignore all the chemical toxicity
of the sugary syrupy sweetness
part of the indulgence.
Because if you let your mind go there…
to all the information out THERE…
well…you know…
EVERYTHING is poison.
AND
oh blissful day…
when
Saturday handed me a snow cone I accepted.
Yes sireeeeeee I did.
I felt like the luckiest girl alive
almost!
When I was a wee little toddler,
not so very long ago,
I remember standing
on the hot hot hot hotter than hot
sidewalk that stretched like warm rubbery taffy
along Main Steet of Eldorado Oklahoma, my parents' hometown.
Standing proudly on the edge of the sidewalk,
was a little snowy-white booth, with a sliding glass window.
As the attendant slid the window open to take an order
or hand out a newly shaved mound of ice,
cold air rushed out to greet
sun freckled cheeks.
There you could purchase a snow cone served in a white paper cone.
"Would you like grape OR cherry?"
"One or the other?"
Who could decide that?
We stood around the outskirts of the stand area on the hot sidewalk
as sugary syrup oozed from the tip of the cone and dripped off our elbows.
The blazing Southwest Oklahoma summer sun
melted the ice to a hard knot in the paper holder that bobbled
up and down
up and down
as we tried to get our mouths open enough
for our teeth to latch into the snow ball.
It was delectable!!
I tell you, delectable!!
I will drive for a snow cone.
I will walk for a snow cone.
And I will wait in line for a snow cone.
This past Saturday while Tiffany was participating
in activities pertaining to
at Lucas Oil Stadium, downtown Indy,
we had a little bit of time between her performances.
The food trucks started lining up along Georgia Street
about 10 in the morning.
It didn't take long to spy the snow cone truck.
We walked
and listened to performances
and drove to take care of responsibilities
and walked
and checked in on performers
and walked
and enjoyed the sites
and walked
and around 2:30 in the afternoon,
Saturday just stepped right up
and handed me a snow cone.
I was so proud of it I held it high to the sky
and as its beauty glistened in the sunlight,
I took this photo just for you.
Because you know
every self-respecting girl should ABSOLUTELY accept
when
Saturday hands her a snow cone!
And in the full disclosure of total honesty,
I had a snow cone the Saturday before also…
well because…
you KNOW
when Saturday hands you a snow cone…