The World's Best Pink Lemonade Pie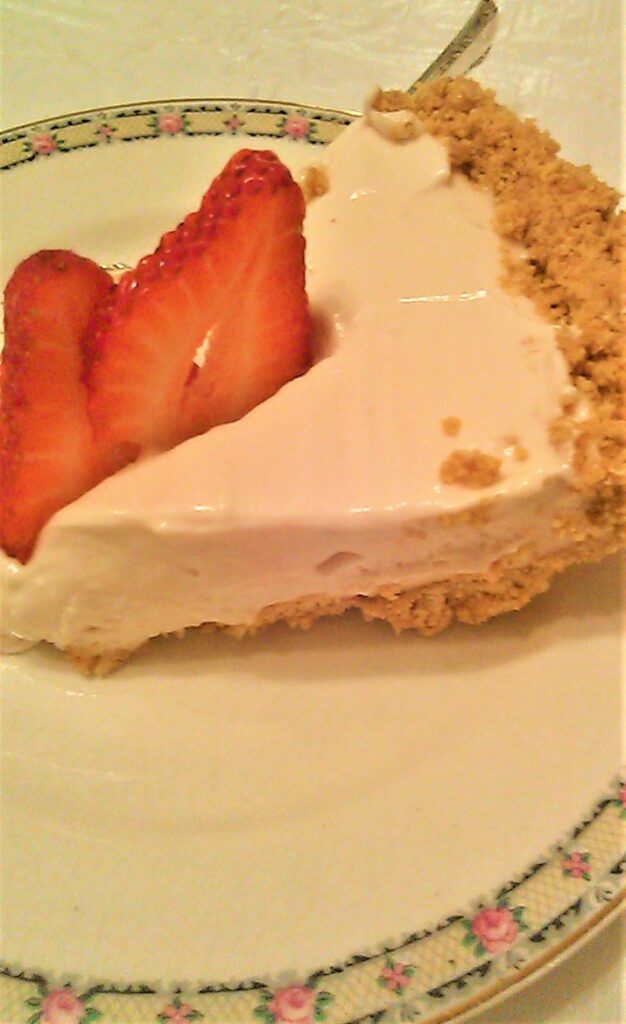 If you've never had the world's best pink lemonade pie, well then come here. You need a hug. It's so easy, you'll actually be willing to make it all by yourself.
Scroll to the bottom of the blog post for the recipe, if you don't want to read all the other stuff!
*chuckle*
From the time Philip and I met until we were married, it spanned almost four years.
Four long years…dreadful and lonely years…with me in Arkansas most of that time, and he in Indiana. I hear your sighs of pity for me.
I don't know why 4 years go by so quickly now and they didn't then.
The two desserts that I remember being served at his family gatherings most often during that time, were Denver Crunch and Cherry Delight.
Ironically, I have never made either of those desserts. We eat them at his family gatherings. They are still favorites.
A couple of weeks after we were married I asked him what he wanted for dessert after Sunday dinner, you know AFTER the roast, mashed potatoes and gravy stuff.
"Pink Lemonade Pie!", was his response. "What in the world is Pink Lemonade Pie?" I asked. How had I known him all this time and never had Pink Lemonade Pie?
When he told me, I remember hardly being able to imagine a dessert so simple. "That's it? That's all there is to it?" I questioned him. "Yes! Really, that's it!" he said. So I made it, and it has become one of our family favorites. I've made this for holidays and birthdays and other special occasions…even youth group fund raiser pie auctions!
So here it is in all its simplistic glory!
You start with a graham cracker pie crust. I like to make my pie crust because I think it is yummier (in my opinion) than the ones you buy already made in the little prepackaged pie pans that you find right there by the box of graham cracker crumbs, but it really doesn't matter.
Just do whatever works for you, and no one will care or be the wiser. The graham cracker pie crust police won't come get you.
The evidence will all be eaten up before they get there anyway, if they should follow their nose to your yummy delicious dessert…just so you know!
Pour six ounces of Frozen Pink Lemonade Concentrate in a large mixing bowl.
Thaw the concentrate first.
To this add a can of Sweetened Condensed Milk.
Just pour it in there with the concentrate, and then leave a little teensy bit in the can to eat yourself.

Unless your kids are standing over you beggin' to scrape the can. Then be a good momma and let them have it.
At this point you can add a couple drops of red food coloring if you want to make it more pink, and no one in your family is allergic to red40. Or just leave it out. It's up to you. My husband's grandmother would do that. And since she did it, it is perfectly fine to do it too if you want to, because she was amazing…
At Christmas time I tried adding color with some neon food coloring and accidentally added purple.
It was funny.
Well, I thought it was funny anyway.
But as the old saying goes, "When life gives you lemons, make lemonade!"
So somehow I mixed and matched my colors and still came up with pink lemonade pie filling.
It was sort of like mixing paint, only yummier…well, I guess it's yummier, I have never tasted paint as I'm mixing it…just so you know.
Generally I don't add any food coloring.
Next, fold in a large carton of Cool Whip.
This amount of filling will fill one large pie plate of pie crust.
Pour the filling into your pie crust and smooth is all around and pop it into the freezer until you are ready to eat it.
You may want to take it out of the freezer about 30 minutes before serving it so that it is easier to cut.
Then slice it, serve it and enjoy it. But I probably didn't need to tell you that, did I?
This has been a family favorite for many years now. Only, I'm not old enough to say "for many years now". But I just did. Well, at least the family favorite part is true.
Enjoy!
Here is the recipe all condensed and easy like for those who don't want to sift back through my rambling, just to make a simple little easy peesy pie.
Pink Lemonade Pie
1 Graham Cracker Pie Crust already made (unless you want to make your own)
1 6 oz. can of Frozen Pink Lemonade Concentrate
1 can Sweetened Condensed Milk
1 large carton Cool Whip
Mix together lemonade concentrate and condensed milk.
Fold in Cool Whip.
Gently spread the filling onto the graham cracker crust.
Freeze until ready to eat, thawing approximately 30 minutes ahead.
P.S. Eat and enjoy! (However I didn't really need to tell you that did I? Have you ever had Pink Lemonade Pie?)