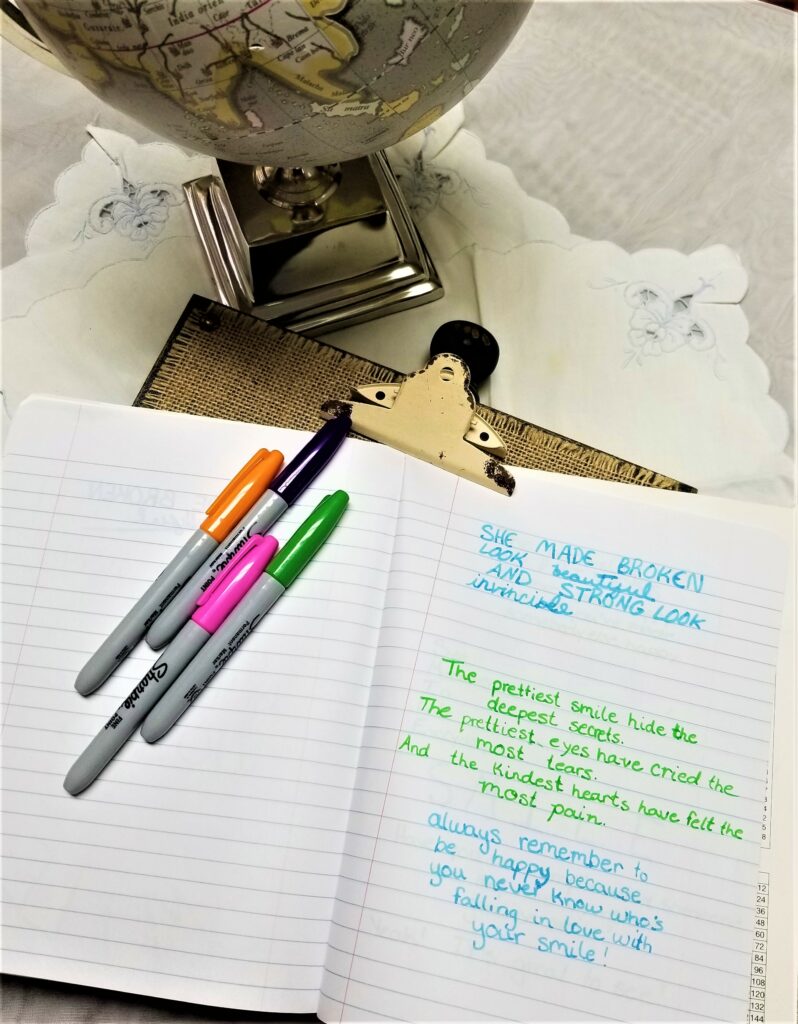 "Mom, do you want this composition notebook?" she asked. "Because, I'm not going to need it."
I took the notebook that appeared to be completely empty and I've used it for a specific project all summer. Near the back few pages, I unexpectedly found several filled with inspiration, from my teenager's heart.
I thought the notebook was empty until I found a few pages of ponderings.
If you grew up on the second pew, piano side…sorta…like I did, I'm sure you've heard the application of "Ask, Seek and Knock and the door will be opened".
However, I've recently been mulling this concept around in my thoughts. You find exactly what you focus on.
Sometimes, it takes years to find what you're looking for. Other times, answers come quickly.
The key is to stay the course, be consistent, keep seeking.
-If you ask, seek and knock… look for joy, that's what you'll find…
-If you ask, seek and knock… look for friendship, that's what you'll find…
-Likewise, if you ask, seek and knock…look for sorrow… that's what you'll find…
List the positive. List the negative. What you focus on is EXACTLY what you will see.
I could have focused on the thistles in the flower bed, but I chose to see the beauty of the Monarch butterfly.
You generally find what you are looking for.
The following quote copied from my daughter's unneeded notebook is the intellectual property of Ariana Dancu, but I thought about my girl focusing on positive to encourage herself and others…encourage me… encourage you!
"She made broken look beautiful AND strong look invincible." (Ariana Dancu)
You find what you're looking for… what are you focused on?
Ask, Seek, Knock